Rain in Japan
Did you know that Japan is actually a very rainy country? Each year in or around June and before the start of the summer season the country enters what is known as the rainy season, a time during which the country experiences many rainy days. But in fact the country also experiences increased precipitation during the autumn season as well, but this time in the form of typhoons and heavy snow in addition to rain. All in all Japan is said to be one of the countries with the most annual precipitation in the world with twice the global average annual rainfall!
Rain Gear
It's no fun at all when the rain doesn't stop for days, but Japan also has a particularly wide variety of rain gear available to help make the most of those rainy days. Here you will find no shortage of all different kinds of umbrellas, raincoats, rain boots and more, particularly right before the start of the rainy season when you will find even more rain gear for sale throughout the country's many department stores and other retail locations.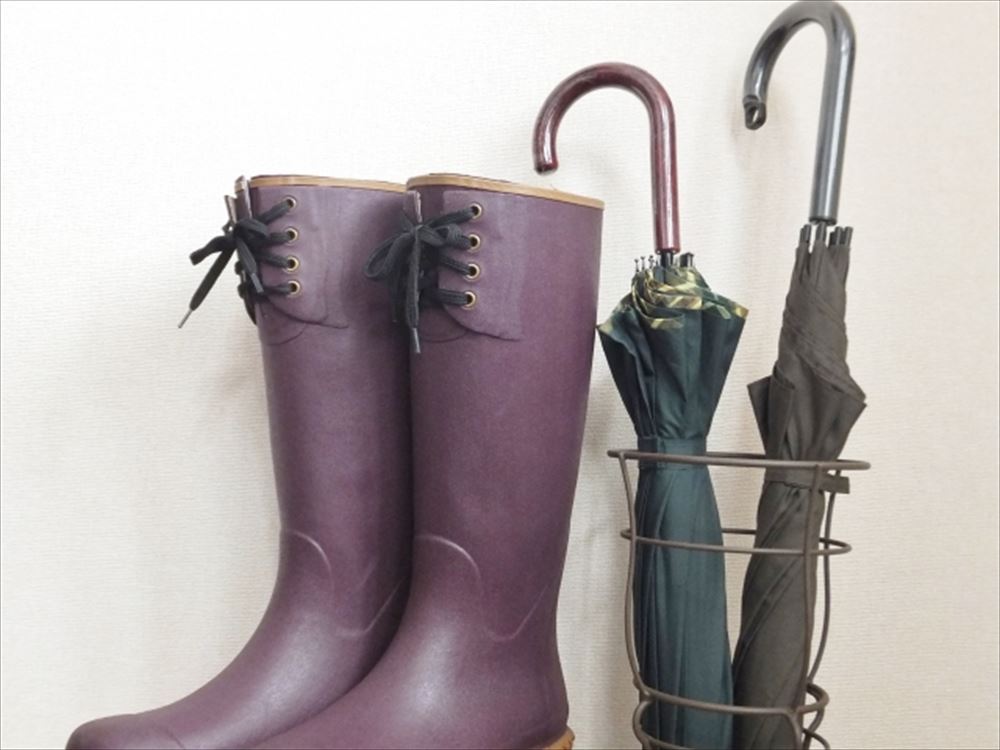 There are different types of umbrellas available, such as the standard-length variety or the compact folding variety. If it's raining in the morning when you leave the house you'll probably want to bring a standard size umbrella, but for those in-between days when you are not sure whether it might rain during the day, packing a compact, lightweight folding-type umbrella in your bag is most likely the way to go. There are even umbrellas with UV protection designed for use during both rain and shine, so be sure to bring along with you whatever type of umbrella best suits your needs.
However, on very windy days or when you will be getting around by bike, you should probably wear a raincoat. From the summer through the autumn seasons it is common to experience not only rain but also typhoons, and using an umbrella during a typhoon can be very dangerous as you may find your umbrella getting blown away or broken in the strong winds. Of course, it is always safest to avoid going out in times of very strong winds unless you really need to. If you do decide to go out, opt for a raincoat instead of an umbrella and try to travel by public transport or by car whenever possible.
Also remember that attempting to ride a bike one-handed while holding an umbrella in the other hand is strictly prohibited. This can result in an accident and can be very dangerous, so be sure to wear a raincoat instead whenever you will be riding a bike.
Typhoons
As mentioned briefly above, the rain in Japan is often more than just rain but instead rain that comes accompanied by a typhoon. Typhoons hit each year during the summer and autumn seasons and can be very dangerous when they hit directly, so be sure to avoid going out unless absolutely necessary, and when you have no choice but to leave the house due to school, work or other commitments, make sure to check the status of whatever means of public transportation you plan to use first.
Major Public Transportation Options in Fukuoka
■Nishitetsu Bus / Nishitetsu Train
http://www.nishitetsu.jp/en/
■Fukuoka City Subway
https://subway.city.fukuoka.lg.jp/eng/index.php
■JR Kyushu
http://www.jrkyushu.co.jp/english/
In the event of a major typhoon it may become necessary to evacuate to a shelter depending on where you live. When a large-scale typhoon hits, detailed information will be broadcast by television so be sure to stay up-to-date on the most current information about the typhoon at all times. It is also a good idea to check and make sure you know where the assigned evacuation shelter for your neighborhood is in advance just in case.
■Fukuoka City Disaster Prevention Map
http://bousai.city.fukuoka.lg.jp/bousai/index.html
■Disaster Preparedness Booklet (available in multiple languages)
http://www.kifjp.org/news_tabunka/1897