Practical postal service solutions for people in Japan
This is a short guide to help people with limited Japanese language skills to communicate or express what you want at the post office.
With this guide, it will become easier for you to send letters and parcels, ask for redelivery, and submit notifications of absence.
If you have received a delivery notice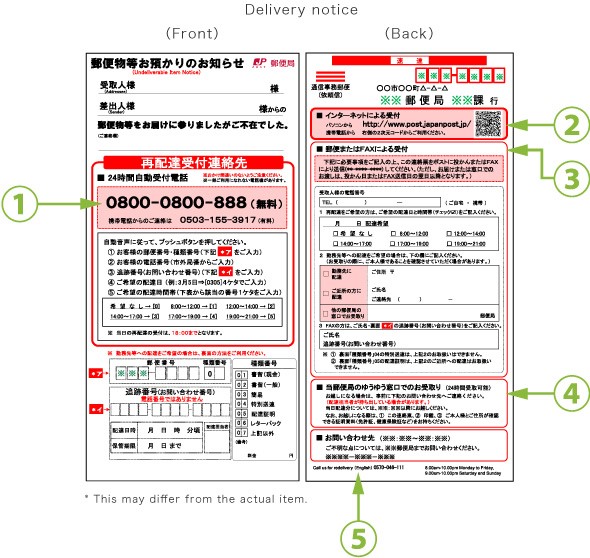 If the addressee is not present at the delivery time, the postman will leave a delivery notice. You have two options to get your item. The first one is to pick it up by yourself, by going to the post office it is stored at. Or the second option is to let it redeliver to your home. Have a look at the options and choose the one that fits your needs best.
①① By telephone (Japanese only)

Please call the number listed on the delivery notice to inform the postal service of the date and time most convenient for redelivery.
②By Internet (Japanese only)

Click hereto access the request page.
③By mail or FAX

Provide the requested information and send it to the address/ FAX number written on the delivery notice.
④Pick up your item at the post office.

Bring your delivery notice and identification that shows your current address (driver license, health insurance card) to the post office which is responsible for your area. Show your delivery notice to the staff and they will bring it to you.
⑤English hotline for delivery inquiries

Tel:0570-046-111

Business hours:Monday – Friday: 8:00AM–10:00PM

Saturday & Sunday:9:00AM–10:00PM
If you haven't received a delivery notice
<Domestic Mail>
・Please call the customer service center.

0120-23-28-86 (free call)

0570-046-666 (for mobile phone users)

0570-046-111 (English service)
<International Mail>

・Mail/parcel sent from overseas (registered mail, insured mail, international parcel) that hasn't been delivered yetClick here for details.

・An EMS parcel sent from overseas that hasn't been delivered yet.Click here for details.
The postal item you received is damaged (domestic mail / international mail)?
<Domestic Mail>
・In case your parcel/mail got damaged go to the closest post office with your item.
You are required to show the packaging (wrapping, packing, etc.) as well as the item for which damages are being claimed. For this reason, it's important to keep the packaging in which the item was delivered.
<International Mail>
・International mail other than EMSClick here for details.
・EMSClick here for details.
・Making a claim for damage or loss of mailClick here for details.
Moving (inside / outside of Japan). How to forward your mail
In case you moved, Japan Post can forward mails and parcels for one year.
You can register for mail forwarding through the official Japan Post website
(Japanese only) or in person at the post office.
It is not possible to forward mails overseas!
You will be away from home for a long time. What will happen with letters and parcels you receive during your absence?
You can submit a notification of absence in advance so Japan Post will hold your mail for a total of 30days. After the 30 days period, Japan Post will re-start deliver your mail.
You have to submit the notification of absence at your nearest Japan Post office (identification required).
What options are available for sending parcels and letters overseas?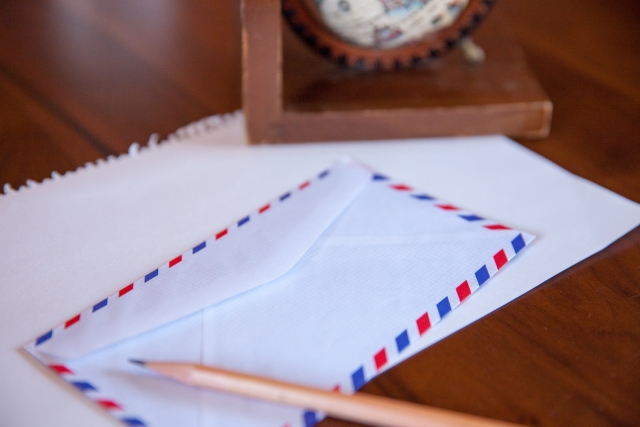 Letters and Cards

・Letter

Standard and non-standard size letters and documents up to 2kg can be sent as letters(Details)

・Postcards

Postcards can be sent to 60yen (surface mail) or 70yen (airmail) (Details)
Express Parcel Delivery

・EMS – Express Mail Service is the fastest international mail service(Details)

・International Parcel (Air) for parcels up to 30kg (Details)
Economical Delivery

・International Parcel (SAL – Surface Air Lifted) is cheaper than international parcel (air) and faster than international parcel (surface) (Details)

・International Parcel (Surface) provides economical delivery within 1 to 3 months (Details)
Small Parcels and Printed Matter

・Small Packets (up to 2kg) can be sent cheaply Details

・Printed Matter (up to 5kg) can be sent cheaplyDetails
Internet Tracking Service

・EMS – Express Mail Service with internet tracking available for selected countries and regions(Details)

・International Registered Mail

The addressee has to sign for the delivery. The service is available only for selected countries and regions(Details)
Fees and the approximate time required for delivery of International Mail
For a simulation of the approximate time and costs for your mails, access to this site here。
■Nonmalleable Items
Nonmailable items are divided into two categories. There are some items that are prohibited by law from being sent by international mail service. (Details) In addition to that, there are some items that cannot be sent to specific countries and regions (Details)To avoid problems, contact the customs of the country you want to send your item.
There is also a label printing service for EMS if you don't want to fill it out via hand. All you have to do is access theInternational Mail My Page ServiceLogin or register, then you can get your labels free of charge send to you.
You can also print labels at home with the online shipping tool. Login or register on theInternational Mail My Page Service (special pouch required)
Japan Post English Site

http://www.post.japanpost.jp/index_en.html
Japan Post Japanese Site

http://www.post.japanpost.jp/index.html
Fukuoka Central Post Office