Horumon Hakata Haruyoshi no Janyoko – Delicious, reasonably priced food and drinks!
Right in the city of Fukuoka's centrally located Chuo Ward and just a short few minutes' walk from Tenjin is the Haruyoshi neighborhood, where you will find this little gem of a restaurant, Horumon Hakata Haruyoshi Janyoko.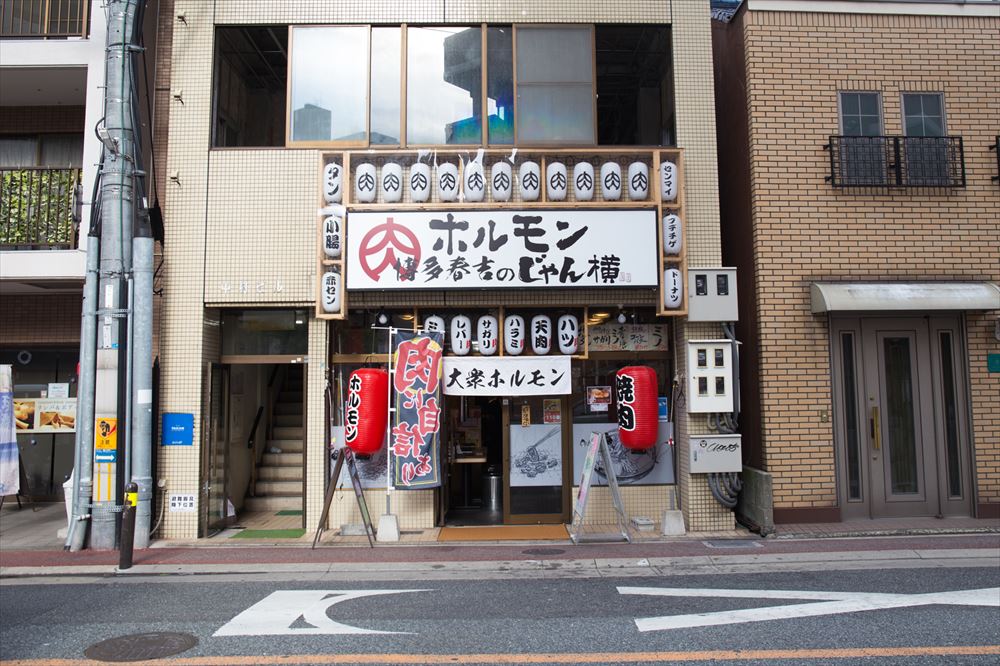 Fresh beef, pork and chicken offal have been a deeply rooted part of the Japanese culinary tradition for some 100 years. Common dishes include horumonyaki, or barbeque-style grilled offal, and motsunabe, a hot pot dish prepared using offal and a variety of vegetables.
Today we are going to show you a restaurant well known for its authentic Kumamoto-style wagyu Japanese beef and its delicious yet affordable food and drink menu!
*Because offal itself does not keep for a very long time, the offal meat used in such dishes will actually necessarily be fresher than the other kinds of meat we typically eat.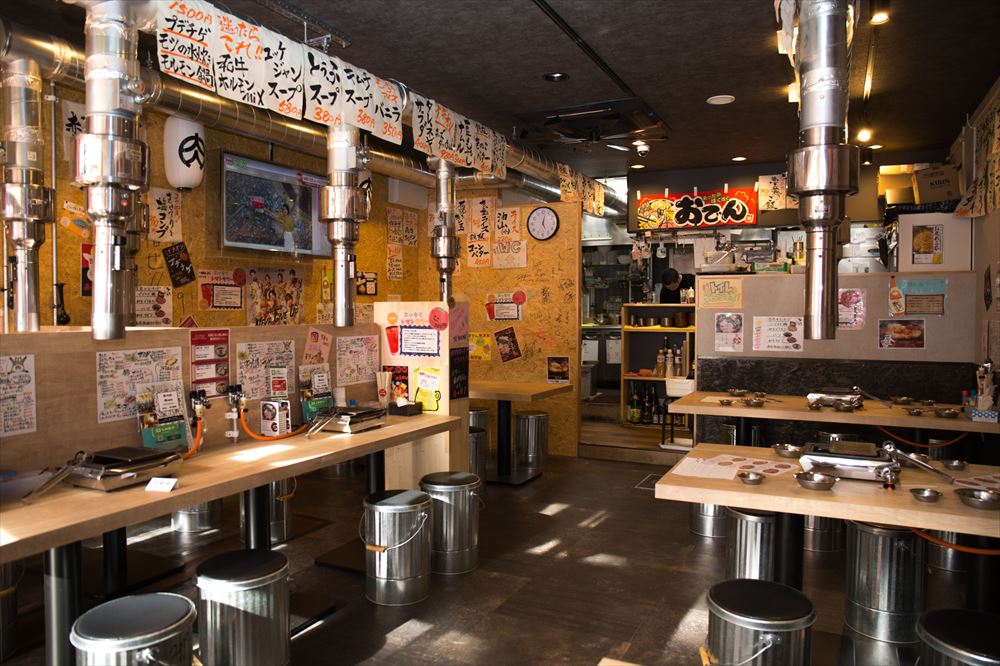 The restaurant's interior has a cozy, old-fashioned retro feel which dates back to the Showa Era, more specifically, from around the 1960s-1980s.
While the restaurant is of course perfect for large groups, it is also ideal for diners coming alone or in pairs with its intimate private seating!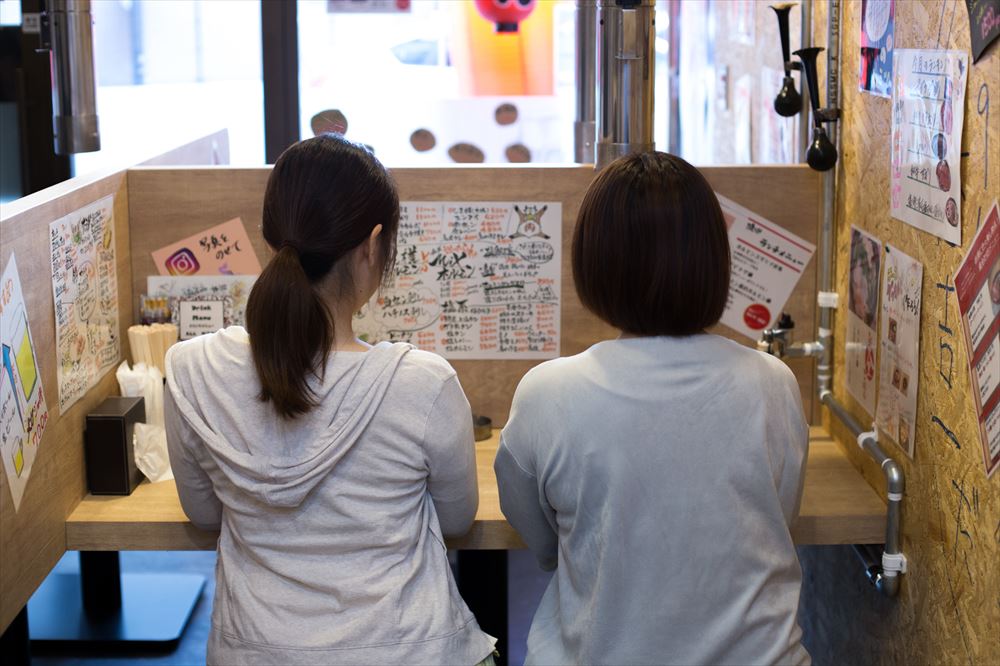 Your delicious offal dish will be served to you by the restaurant's manly owner and spirited staff!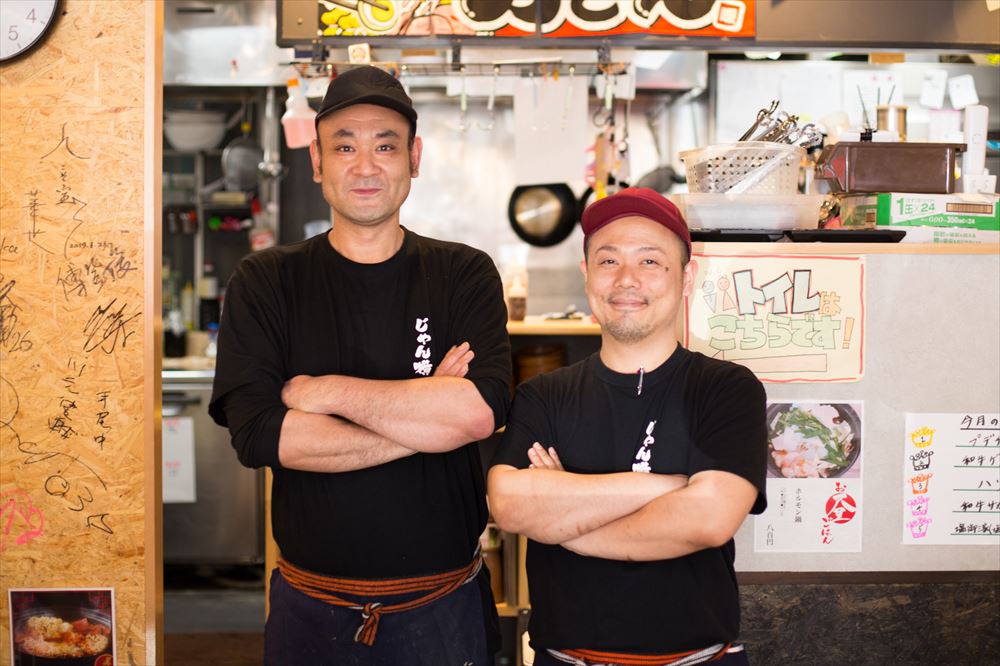 The restaurant owner is confident that you simply won't find better tasting dishes at more reasonable prices in the Haruyoshi neighborhood! And just as promised, here you can enjoy real authentic Kumamoto wagyu beef at a price that is easy on the wallet.
The recommended dish? The "Janyoko Offal", of course!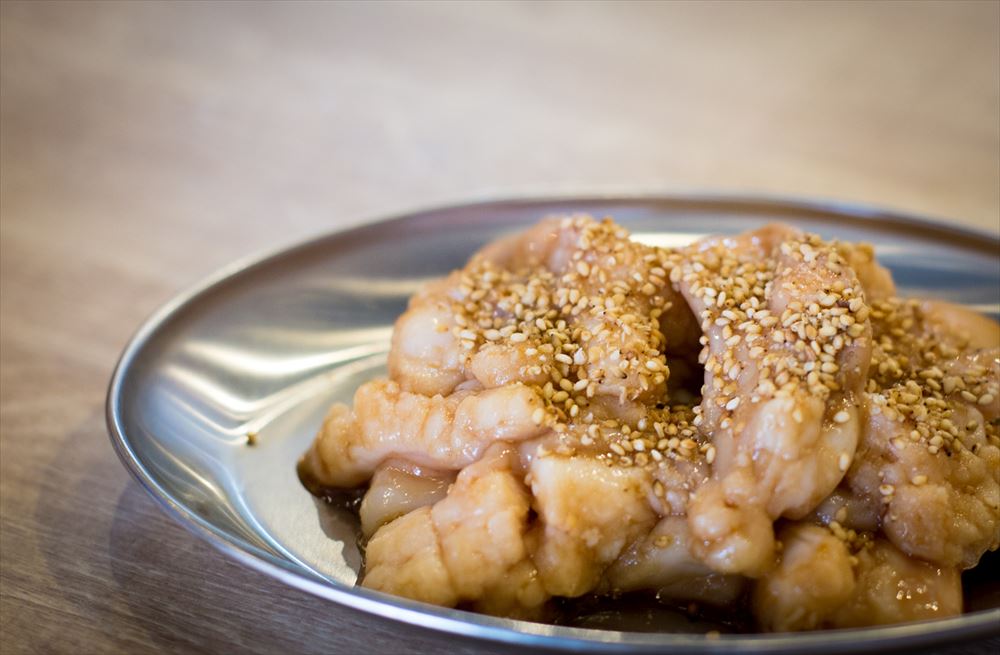 These delicious chewy chitterlings covered in sweet tare sauce are to die for.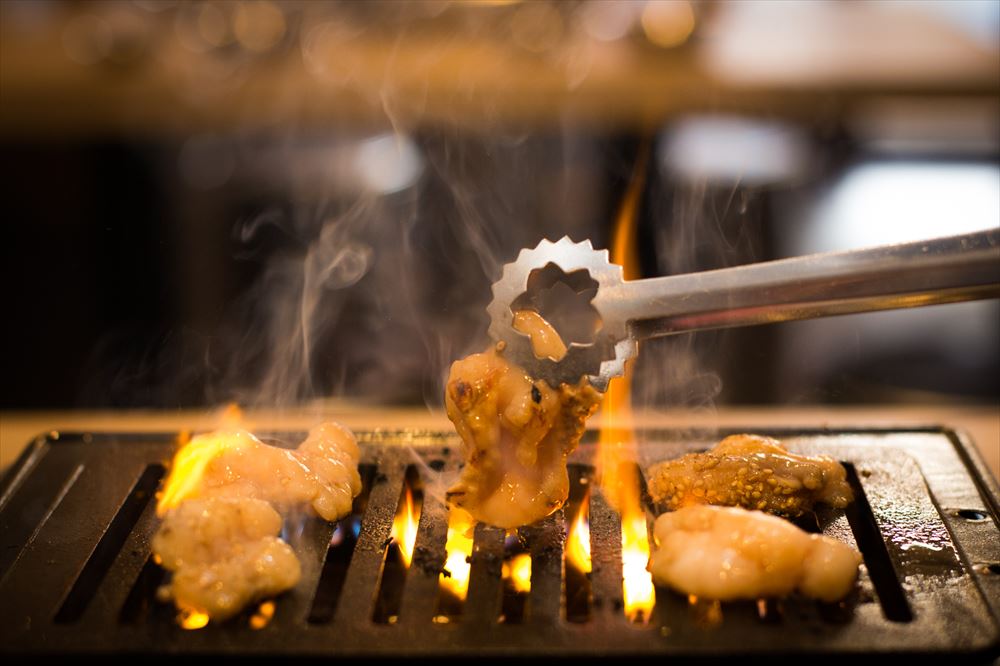 The aroma of chargrilled tare is simply the best. Go ahead and cook them as you like!
This of course isn't the only recommended item on the menu!
The special wagyu beef selection is a popular dish that is in limited supply, so it does tend to sell out fast. So if it isn't sold out yet we definitely recommend giving it a try!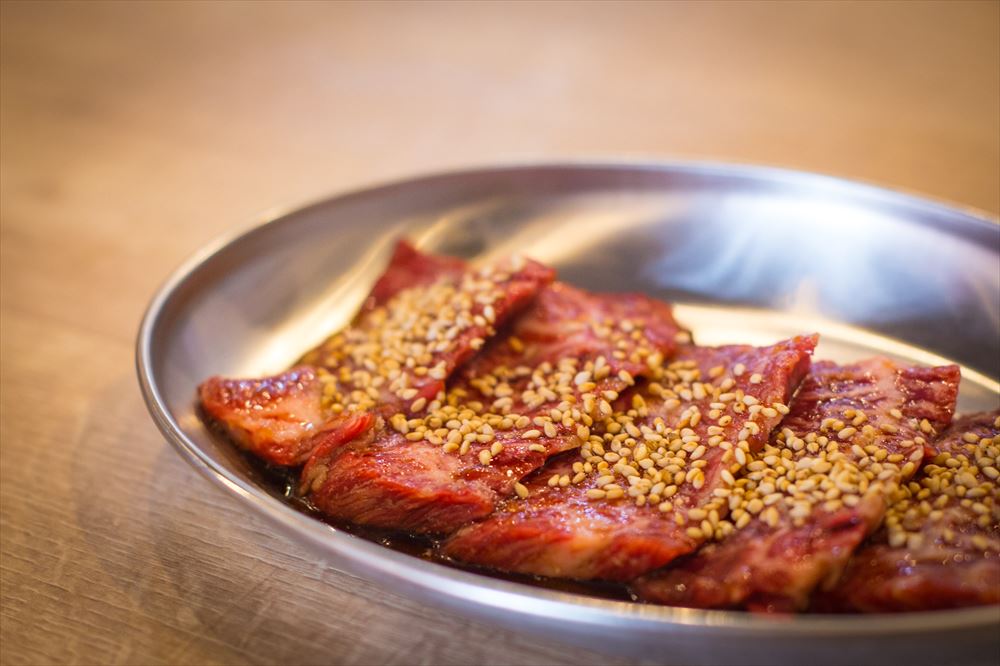 Wagyu beef selection skirt steak, with just the right amount of fat and a deep, exquisite beefy flavor.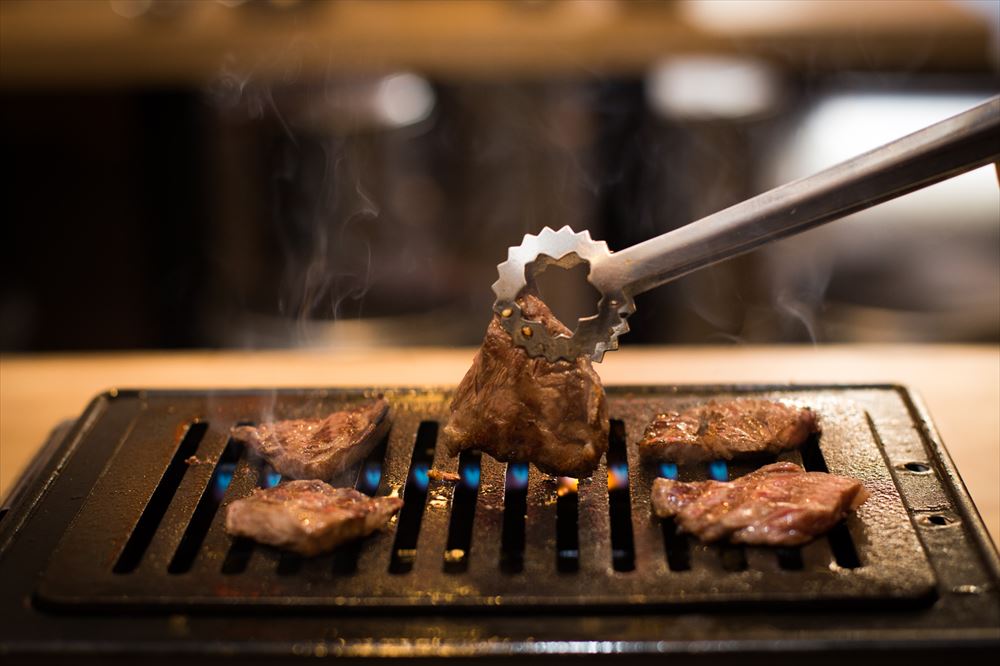 After lightly grilling both sides, the meat will be just oozing with fatty goodness that simply melts in your mouth! This menu item comes highly recommended.
The next dish is the wagyu tenniku, or cheek meat.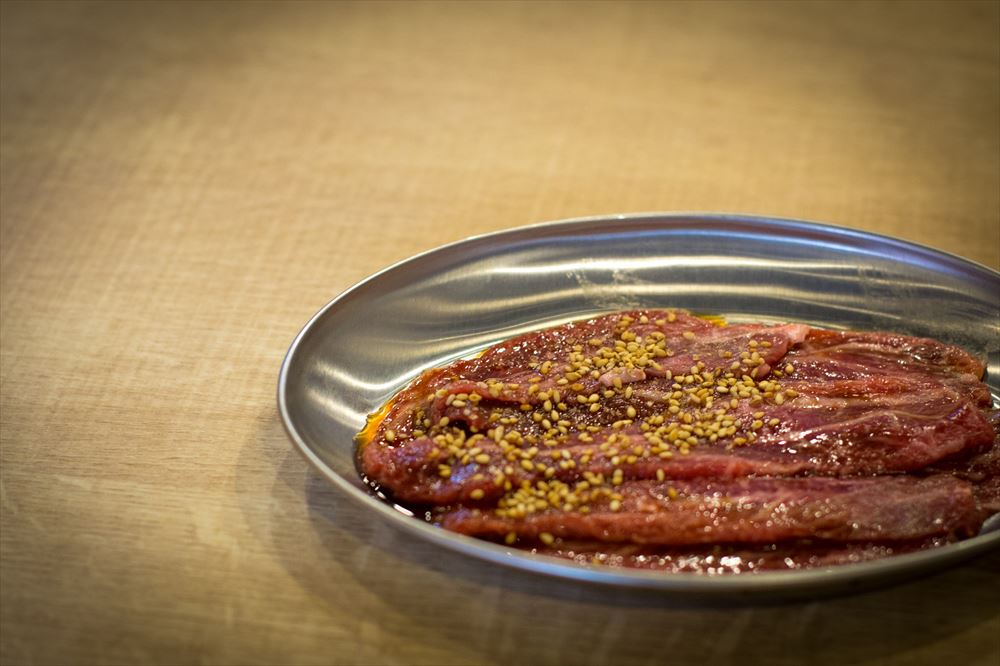 With each individual cow only yielding a few portions, this is a rare, valuable cut of meat. What's more, it is considered to be very healthy thanks to its low fat content. This dish in particular brings out the natural umami of the meat with its special homemade tare sauce!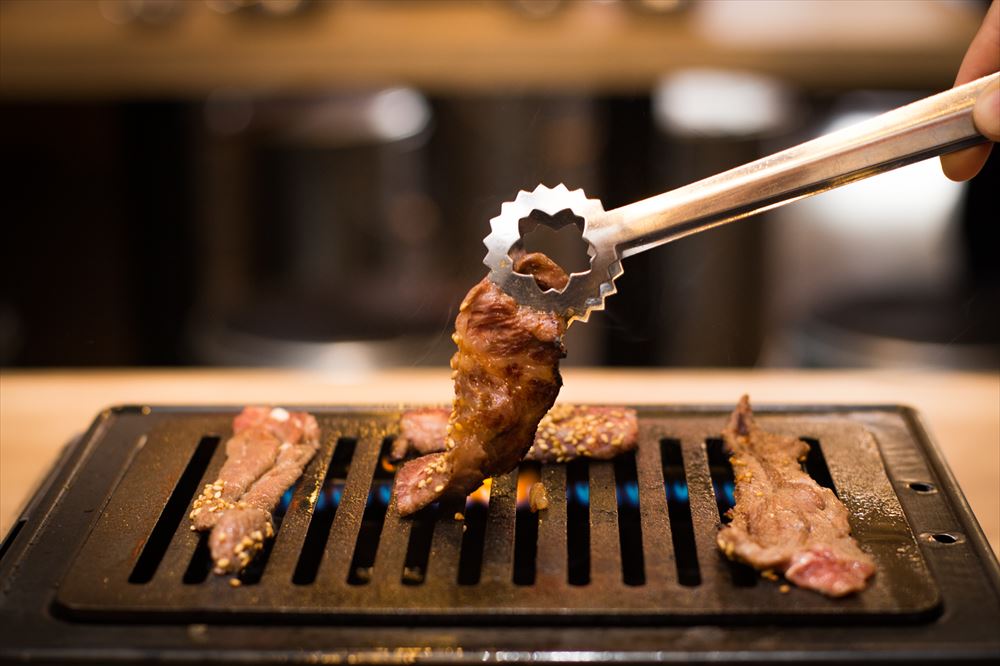 Each bite just bursting with umami, this cut of meat is delicious and chewy in texture.
And you're in luck – the menu is available is several foreign languages for your convenience!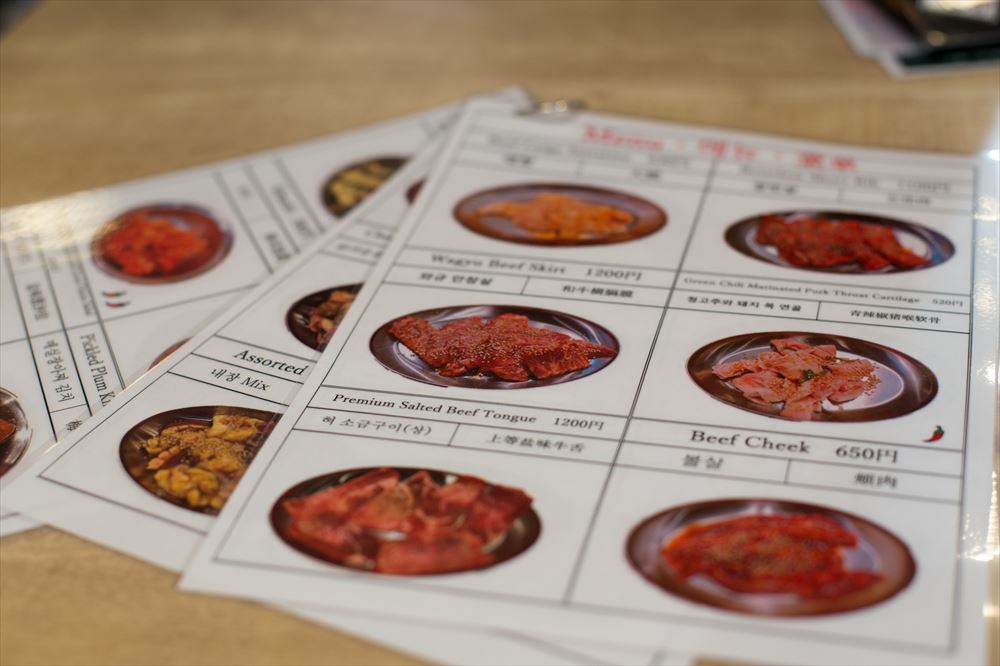 Menu available in the English, Chinese, and Korean languages.
The restaurant has welcomed more and more foreign guests recently, too!
Naturally, there are also course menu options available as well.
With the extra special 2000 yen value course you can choose two of the following popular menu items: skirt steak, boneless rib meat, hanger steak, and tennniku cheek meat. In addition, two drinks of your choice are also included. Because this value menu is such a great deal, it is limited to the first five customers only. So don't miss out!
You can also let the staff know what your budget is beforehand and they will be happy to help you create a course within your budget. Just check in with your wallet first, and let them know!
Naturally, they also have all-you-can-drink menus available as well!
After 10:30pm you can drink as much as you like for 30 minutes for just 400 yen! What a deal!
While the restaurant prides itself on its high-quality, delicious meats, they also offer a selection of alcoholic drinks to go perfectly with your meal!
With a selection of local shochu varieties, including Miyazaki Prefecture's famous Kurokirijima Shochu, as well as a number of fruit cocktails popular among the ladies, and some of the finest Japanese sake selections, you can choose from a variety of drinks starting at just 380 yen!
…of which, we recommend: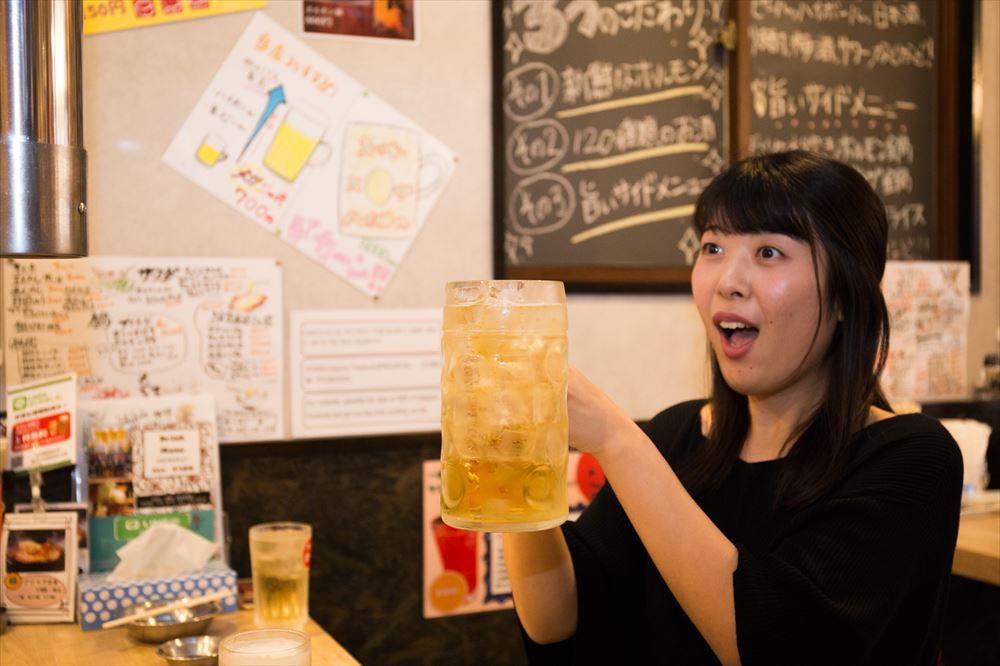 The Super Highball (whiskey and soda)! Big and heavy, and just 700 yen!
"Come with just 3000 yen and you will leave full and satisfied!" the owner himself assures you.
It seems they really put their heart and soul into their hearty meals and drinks, so come bring your wallet and give it a go!
They of course also serve the local specialty of the Hakata area, motsunabe.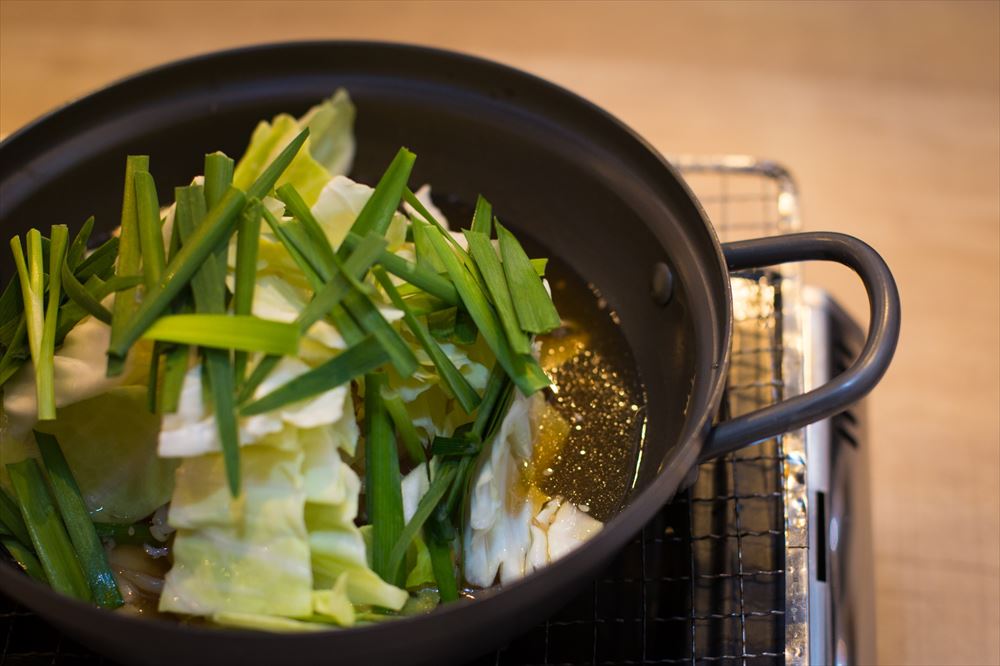 This motsunabe is a true delicacy, made using only fresh offal meats for a rich, chewy, delicious flavor. What's their secret? A little butter added while cooking, which brings out the rich umami of this dish!
And now, one more recommendation for today: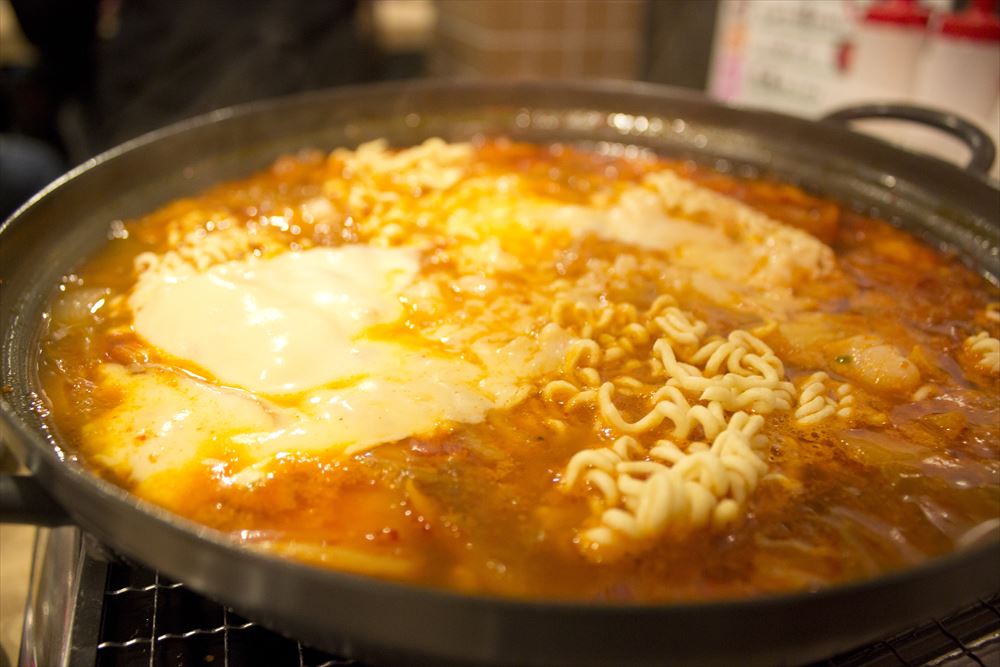 Budae Jigae, a Korean hot pot dish. Just the right blend of spiciness and umami work together perfectly with the instant noodles for a taste that will have you hooked.
This dish is the perfect way to finish off your meal! (Also available during lunch hours!)
Now here's how to get to the restaurant: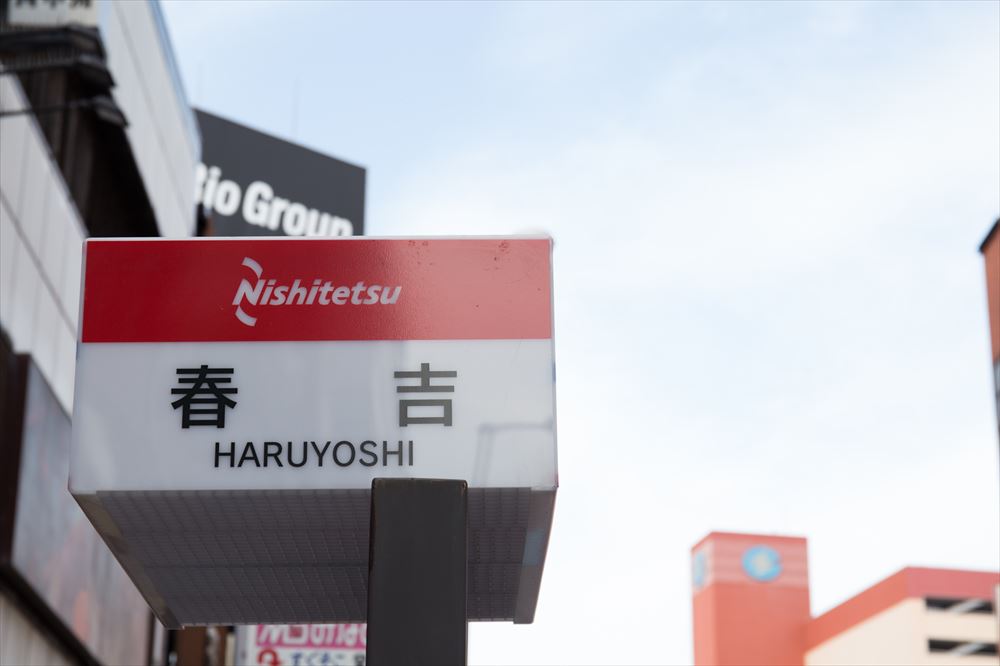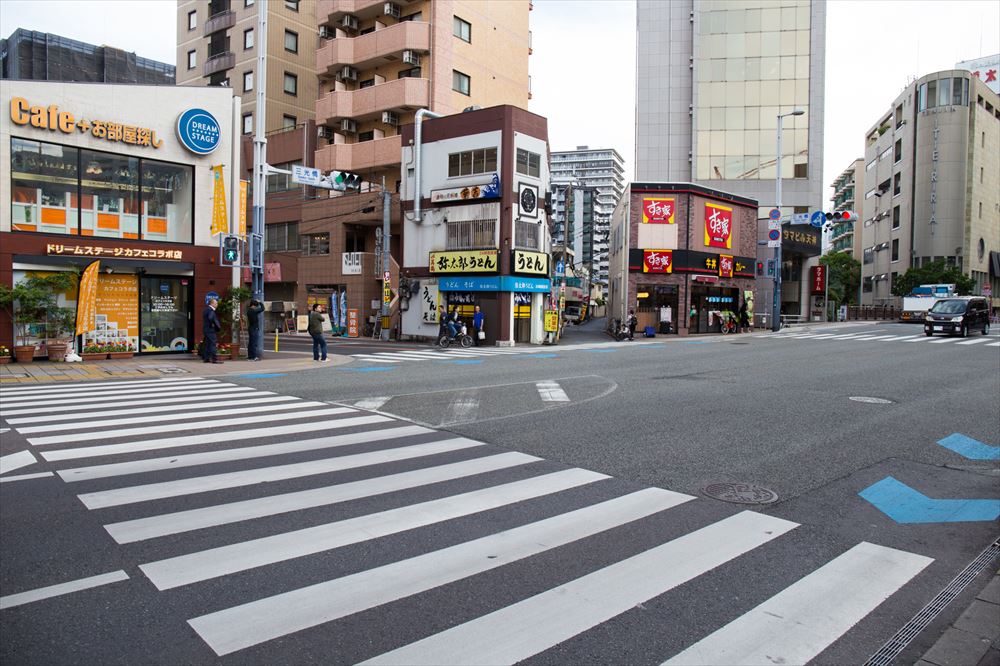 From the Haruyoshi bus stop, just take this street pictured here from the Sanko Bashi Intersection and follow the street for about 8 minutes. The restaurant is also within walking distance from Tenjin.
Just look for the red paper lanterns!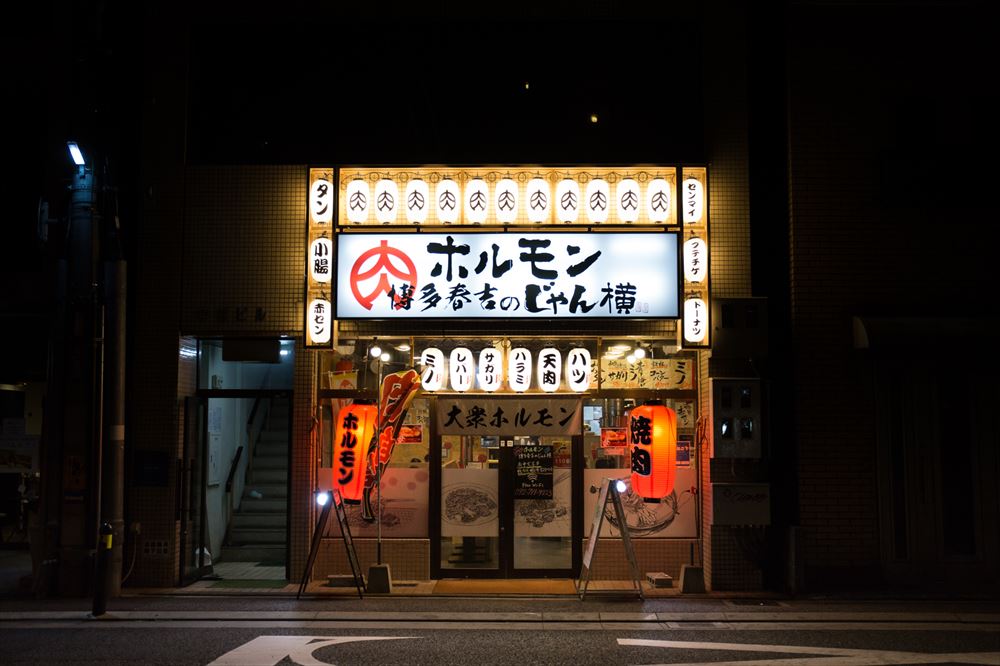 And now for an expert tip!
When you post a picture of yourself (or yourself and your friends!) having fun enjoying your delicious meal on Instagram, you'll get a free drink!
-1. Follow Hakata Haruyoshi No Janyoko's Official Instagram account "@jyanyoko_haruyoshi"
-2. Post your picture with hashtag #HakataHaruyoshi or #Janyoko
There are other special deals available so be sure to check out the restaurant to find out more!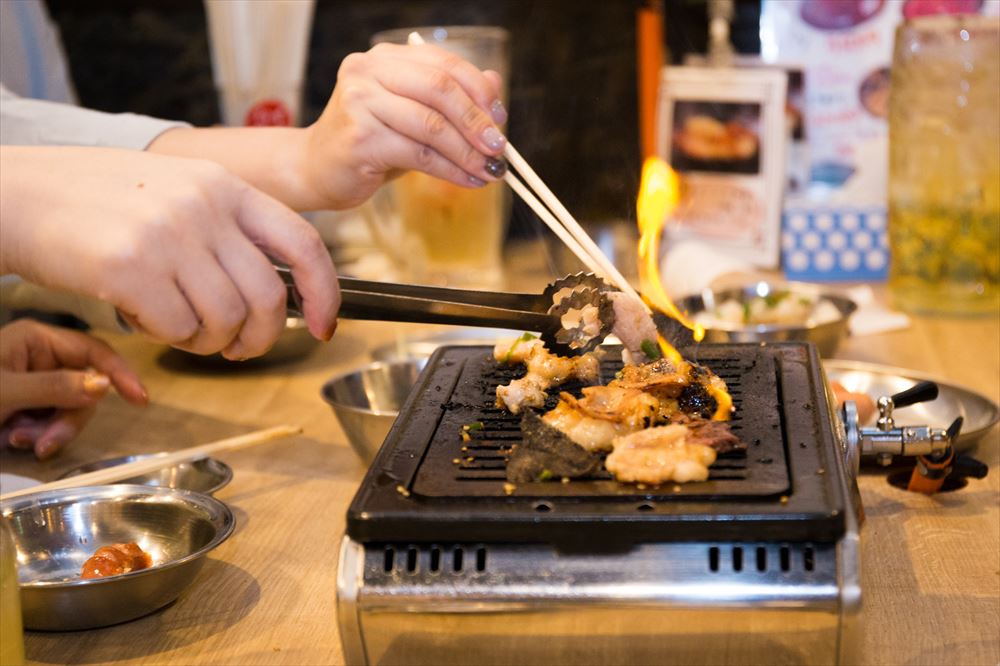 Wagyu beef from Kumamoto and Kyushu, local Kyushu shochu, and more.
Motsunabe, Budae Jigae!
This restaurant offers not only delicious local Kyushu dishes, but also a fun, relaxed environment with a kind of décor, both nostalgic for older customers and novel for younger guests, that everyone can enjoy.
Come visit to get your fill of local offal dishes once and for all!
Please be sure to check it out!
【Horumon Hakata Haruyoshi no Janyoko】