Nakasu
We are currently preparing the English version of the article
Japan is known the world over for having a culture all its own, unique and recognisable even to its smallest measure. Many have attributed this to Japan being an island nation, or more accurately a nation of islands. It is an interesting idea and one may argue that this is true or not but our own city has a model for this phenomenon; an example that having an area across a stretch of water can eventually lead to something different growing on the other side. Nakasu lies mostly on a sliver of an island nestled between the bright lights of Tenjin and bustle of Hakata. It is a grand, mad slice of delight floating on the rippling waters of the River Naka like a jaunty umbrella sitting in a tropical cocktail. If Tenjin is where people go to shop and Hakata is where people go to travel, Nakasu is where the people of Fukuoka go to have fun. They go to eat, drink and be merry and to enjoy pleasures of the palate and beyond.
Due to its size and river boundaries Nakasu is quite easy to navigate, although some of the narrower streets may leave one feeling bewildered at first. Nakasu-Kawabata station is the nexus of the subway network but I recommend you to instead walk to Nakasu from Tenjin, past Across Fukuoka along Meiji-dori. As you walk over the wide bridge, pause a moment to look over the water to one of Nakasu's many fetching riverside views. Having reached the far side of the bridge, you should feel the more relaxed atmosphere of Nakasu almost immediately. The lack of street shops takes away the frenetic energy that Tenjin has (not that Nakasu is without good shopping, as we shall see). On your right the old Taiyo Cinema will appear on a street corner. This cinema dates from 1946 and keeps its retro picturehouse ethos in contrast to the grand multiplexes in the rest of the city. Keeping walking down Meiji-dori and you'll pass eateries of many kinds on your left or right, as smaller side streets disappear into the middle distance. After a short time you'll reach a large Donki store on your right and you're suddenly in front of the other arm of the River Naka. Nakasu is indeed narrow. In front of you, across the water, looms the large Hakata Riverain Mall. If you came to Nakasu via the subway, chances are you emerged around here.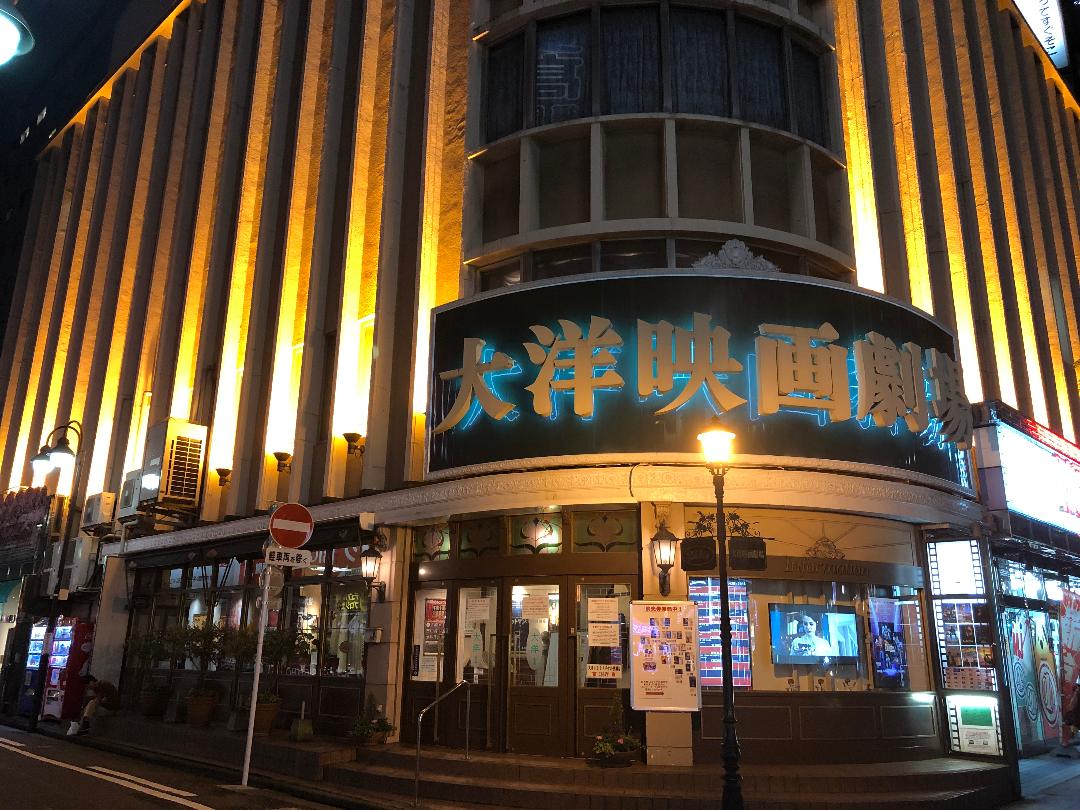 If you came to this little island and want your cash to go on something more permanent that just a good night out in Nakasu, Hakata Riverain Mall is seven floors of shopping pleasure. Behind the Mall is the understated opulence of the Hotel Okura, one of the finest hotels in the city. Between these two is the short, covered walkway known as Riverain-doori with a fine antique store and a good coffee shop or two. Several pleasant kissaten coffee shops can be found on the tree-lined streets beside Fukuoka's most famous theatre, Hakata-za. Most well-known for its performances of kabuki and Noh theatre, you may find small crowds of kimono-clad folk passing to and fro beneath the theatre's imposing marble columns. Across the road is another fine bastion of higher culture in good-time Nakasu with the yellow-fronted entrance to the Fukuoka Asian Art Museum. Across the road from Hakata Riverain Mall is the entrance to the Kawabata Shopping Arcade. This long covered pedestrian street runs all the way to Canal City if you've come to Nakasu-Kawabata station in order to go there.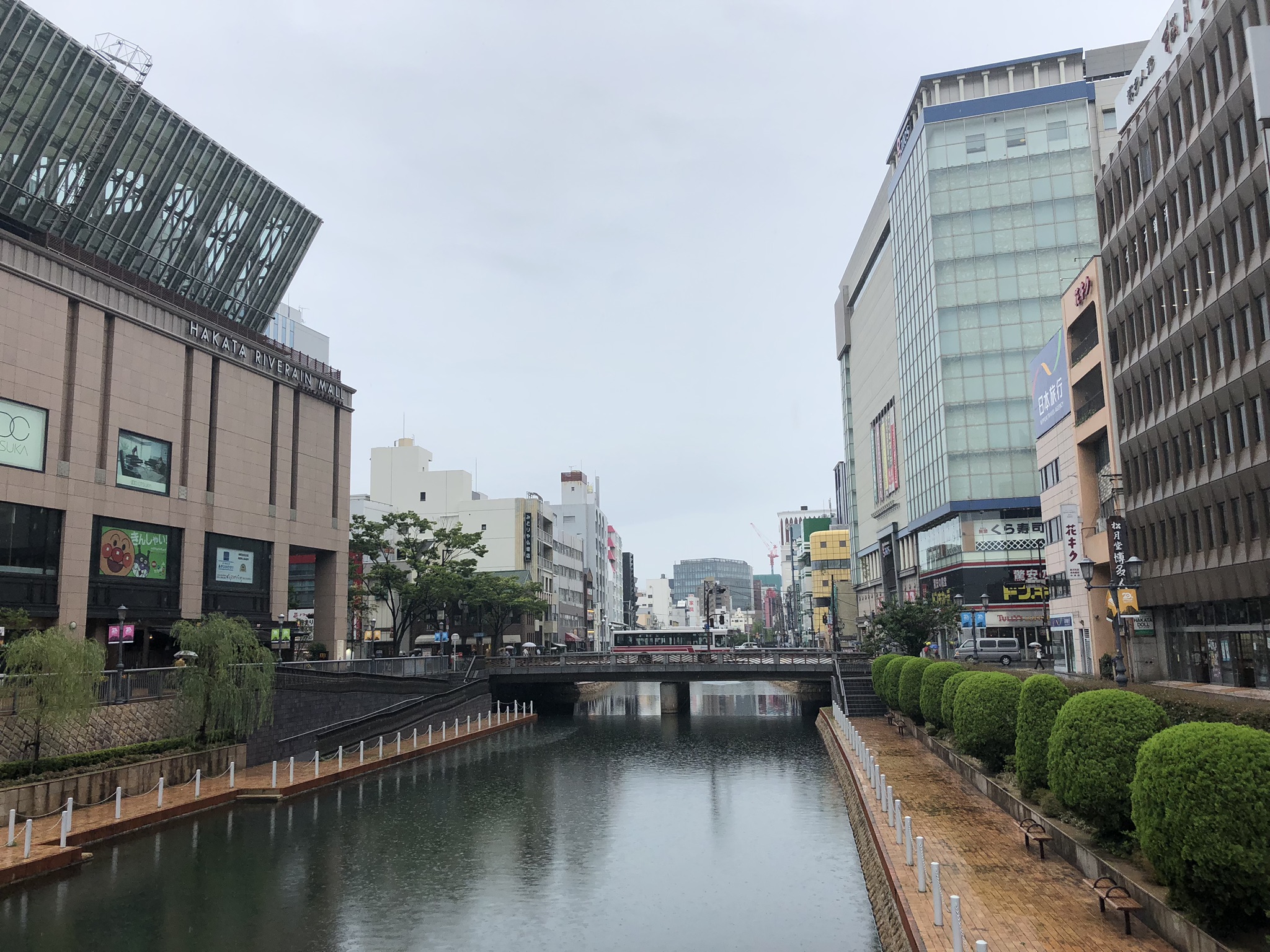 But let us turn our attention and ourselves back over the bridge to Nakasu proper. If you want to see Nakasu at its best then you should know that she doesn't show her true colours until the sun has gone down and the streets are filled with light and shadows. Night is the domain of Nakasu. Doors open, the streets start teeming and lurid neon flickers off the rippling water. Now are the best photo opportunities from any of the many bridges and waterside walkways Nakasu has. A perennial favourite is the view down the east riverside to Canal City.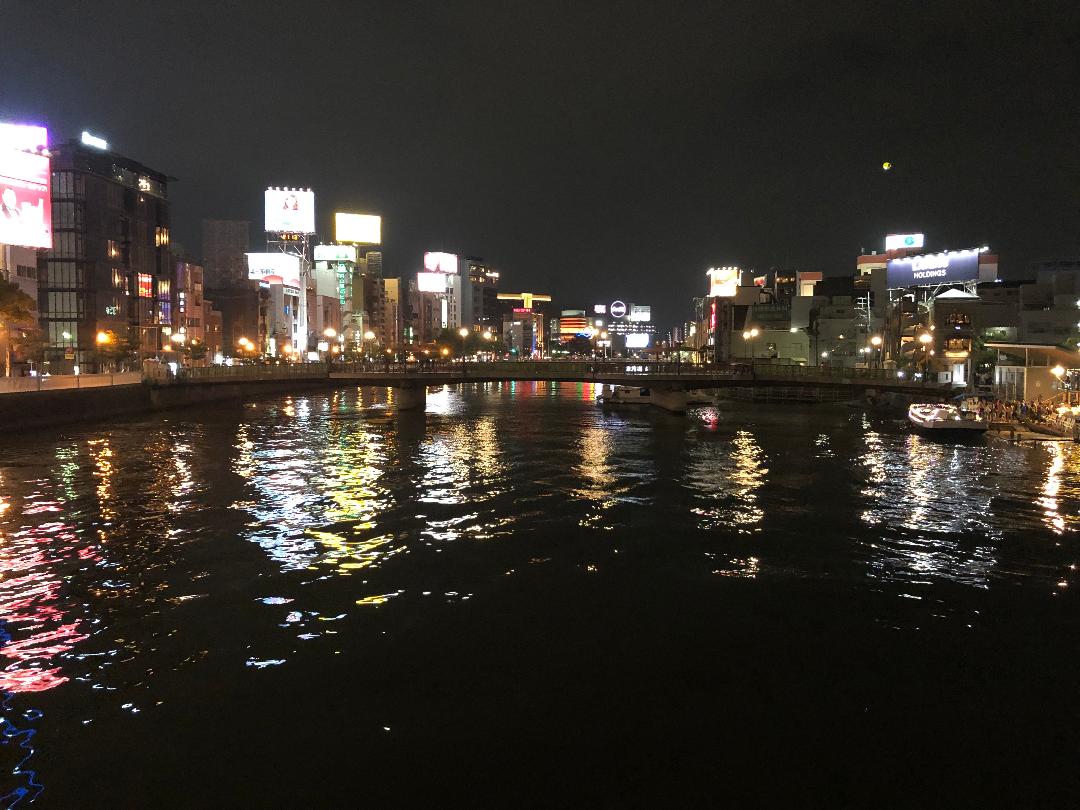 A good way to sample the famously more flamboyant side of Nakasu is to take a walk from northwest to southeast down Nakasu Chuo-dori, a narrow street that wanders drunkenly down the middle of Nakasu like some of the people you may see late at night. Bars of various kinds dominate. Almost every building seems to have floors and floors of bars with amusing and exotic names. The foreign visitor should remember that bars are rather more expensive than izakaya and you will be charged a sort of 'table fee' just for sitting down. There are also are no menus outside. If a local colleague or friend brings you along one evening to such a bar, you'll be in safer hands. Finding a good bar for yourself in Fukuoka is quite a treat and perhaps something for those with 'bucket lists' for your life here. Some bars also have pictures of rather sparsely-dressed ladies. These are probably hostess bars. At a hostess bar, patrons are joined by the resident hostesses for a chat and a drink and perhaps a song or two. You may be staggered at just how many hostess bars Nakasu seems to have considering Fukuoka's modest size. There are host bars, too. Some other places in Nakasu offer a lot more than just a chat. Discretion is advised.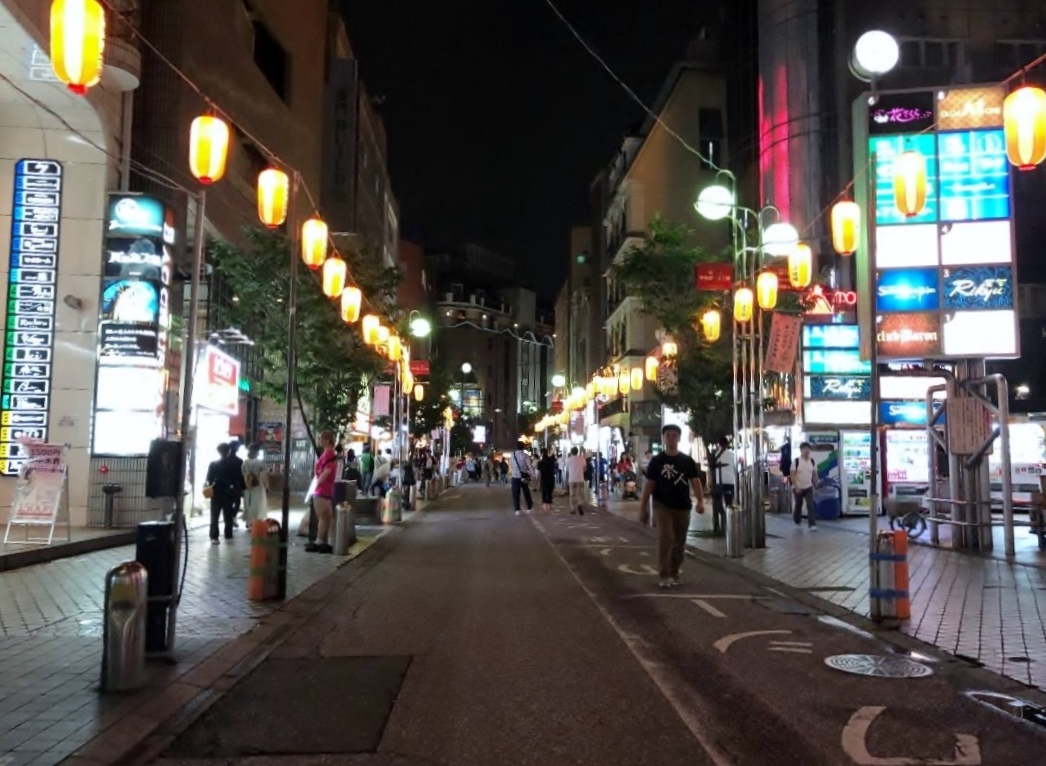 Despite all this unseemliness and talking about risk, I don't want anybody to think that this side or indeed any part of Nakasu is dangerous or even seedy. It's naturally not child-friendly but one can see men and women and couples enjoying Nakasu of an evening. It's very clean (like most of Japan) and you will pass through Nakasu even late on a Friday night without any bother as you take in the atmosphere. There's a koban police box for your peace of mind and Nakasu is small enough to make taking a break from the headiness easy, either across the water or in one of the aforementioned coffee shops. There are also some fantastic places to eat whether you want a quick burger or a full Japanese culinary experience. The famous yatai are in abundance along the waterfront for a real taste of Fukuoka. The northern and southern tips of the Nakasu island have Nakajima Park and Seiryu Park respectively, both with relaxed airs and a fine view over the waters both day and night. For the more homesick, Nakasu has the Hakata Harp Irish pub and the Morris' Hippo, a British-style pub.
A floating curiosity in the centre of the city, Nakasu sometimes gets overlooked by the visitor. The turgid waters of the River Naka could just as well be a veil to those who pass between the twin bastions of Tenjin and Hakata. But there is plenty here to distract, delight and amuse. During the day, it is a calm and considered corner of coffee and culture. At night, it's a vivid and vivacious vision of vitality. Let the waters of River Naka flow beneath your feet as you discover Nakasu for yourself.