Experience Fukuoka's traditional craft product "Hakata Doll"
Fukuoka's traditional craft product "Hakata Doll"
This time we went to the home of Fukuoka's traditional craft product Hakata doll at Shougetsudou.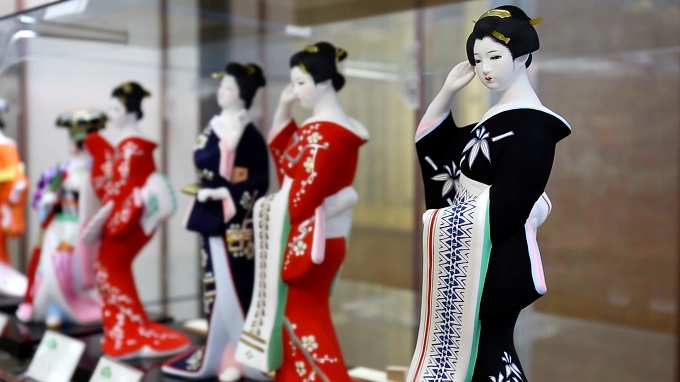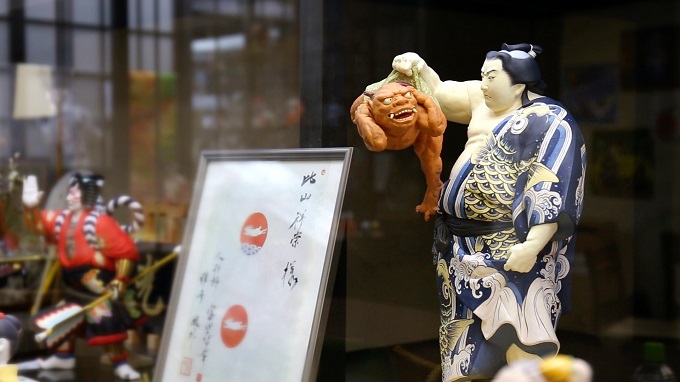 What is Hakata doll? Hakata doll is a traditional craft product made in Fukuoka with history of more than 400 years. The dolls are made of baked clay. After the baking process, Face and face expressions will be painted. But not only dolls of cute women are available. Also brave warrior figures as well as flutes.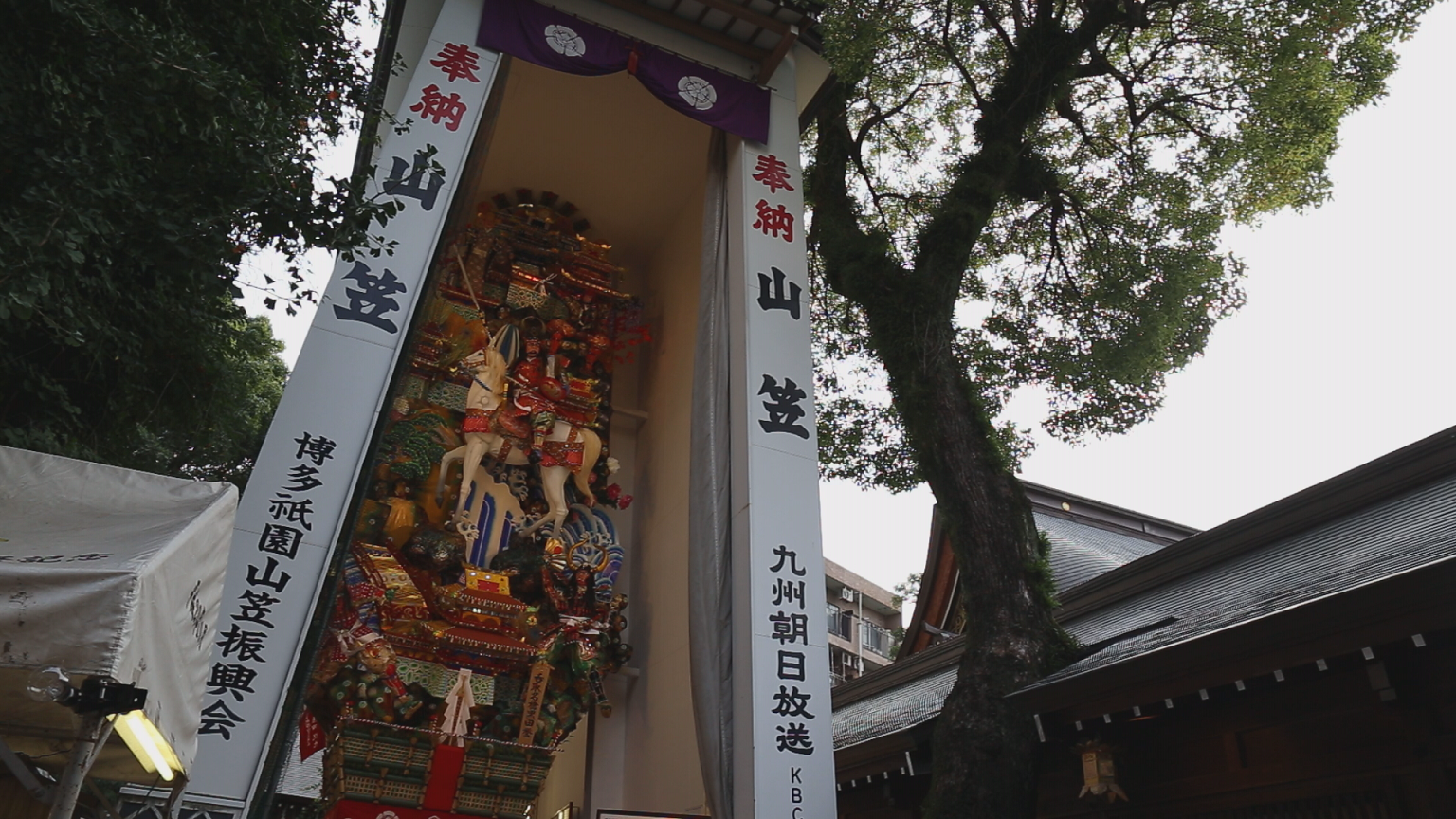 Kushida Shrine – Yamakasa decoration
Actually the dolls you can see as a decoration at Hakata Yamakasa are also Hakata dolls. Our presenter Heeya was really excited to see such beautiful figures from so close distance.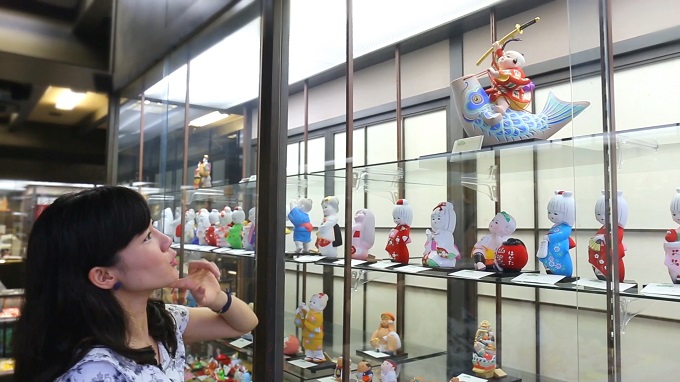 At Shougetsudou are more than 600 different dolls and figures assembled. You can find beautiful women figures as well as strong and brave figures of warriors. It's just unbelievable how many figures are assembled here.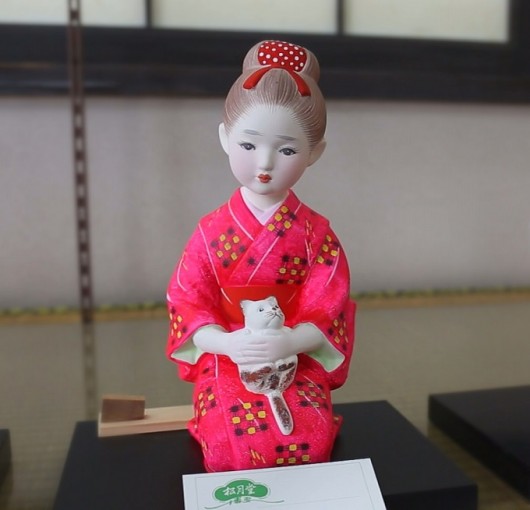 Heeya's favorite doll
The access to Shougetsudou, the place of Hakata dolls is very easy. Just use the subway to Nakasu Kawabata Station then just walk 1min and you will arrive. Perfect as a souvenir, lately the number of foreign customers increased steadily.
Create your own doll
A very special feature at Shougetsudou is that you can create your own doll. It just takes about 30min – 60 min depending on your personal painting skills. The price for this unique experience is 2160jpy. Choose your favorite doll design paint it in your favorite color and you get your own original Hakata doll.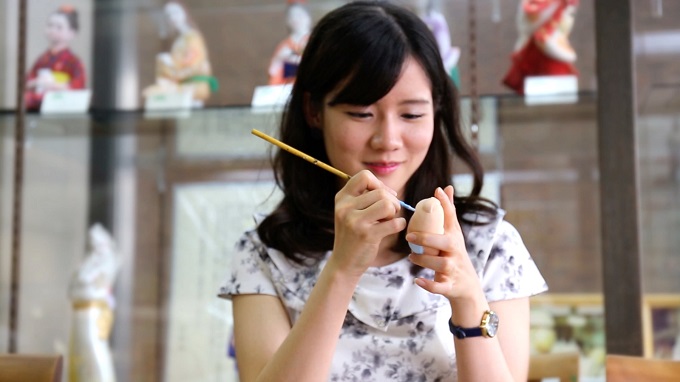 Heeya also created her own one. At first she wasn't sure about the color and design, but in the end she really enjoyed that experience.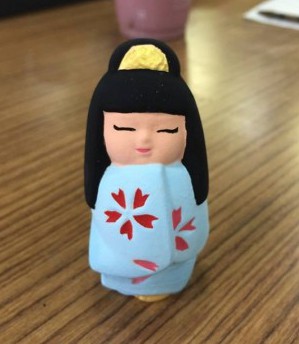 And here is the final product. Doesn't it look a bit like Heeya? You can take the doll home with you. Perfect as a travel memory, don't you think so?
Let's enjoy Fukuoka's traditional craft
But there's more than just dolls at Shougetsudou. You can also purchase Hakata weave goods. Like Hakata Doll, Hakata weave goods are a traditional craft. Robust and elegant silk textiles are made to wonderful things like purses, neckties and so on.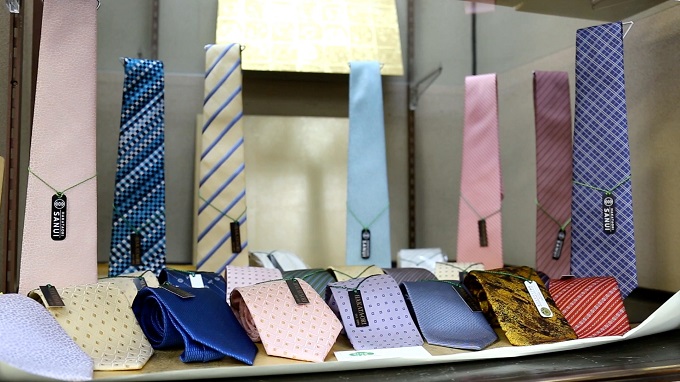 The special thing about these products is the design. The so called "Hakata Niwaka" face is nearly on every product. For those who don't know it, "Hakata Niwaka" is the character of "Niwaka Senbei", a traditional Japanese rice cracker.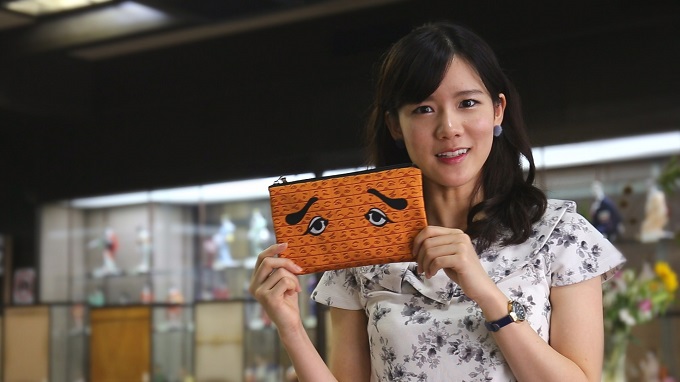 If you have time, you really should have a look at Shougetsudou. With its more than 400 years of Hakata Doll history and more than 770 years of weave goods history you can experience Fukuoka's amazing traditional craft.
Hakata Doll Shop Shougetsudou
※As of December 16th 2015
Homepage
http://www.shogetudo.jp/
Address
810-0801
5-1-22, Nakasu, Hakata-ku Fukuoka-shi, Fukuoka
Hakata Ningyō kaikan shōgetsu dō biru 1 F
Contact details
TEL:092-291-4141
FAX:092-291-2805
Business hours
09:00 am – 8:00 pm (no holidays)