Hakata City Christmas Market 2018
With Halloween gone and November also on the wane, thoughts now turn to the festive season.
Fukuoka City always revels in the Christmas spirit and, for just these few precious weeks of the year, the front of Hakata station gives ways to being the most popular meeting place in the city to a compact but beautiful Christmas wonderland as the Hakata Christmas Market.
The elevated walkways and shop fronts are garlanded with light that seems to fall like silver rain. Large stars hang from the famous curved roof and the market itself is its own wonderland of festive cheer for you to while away the evening.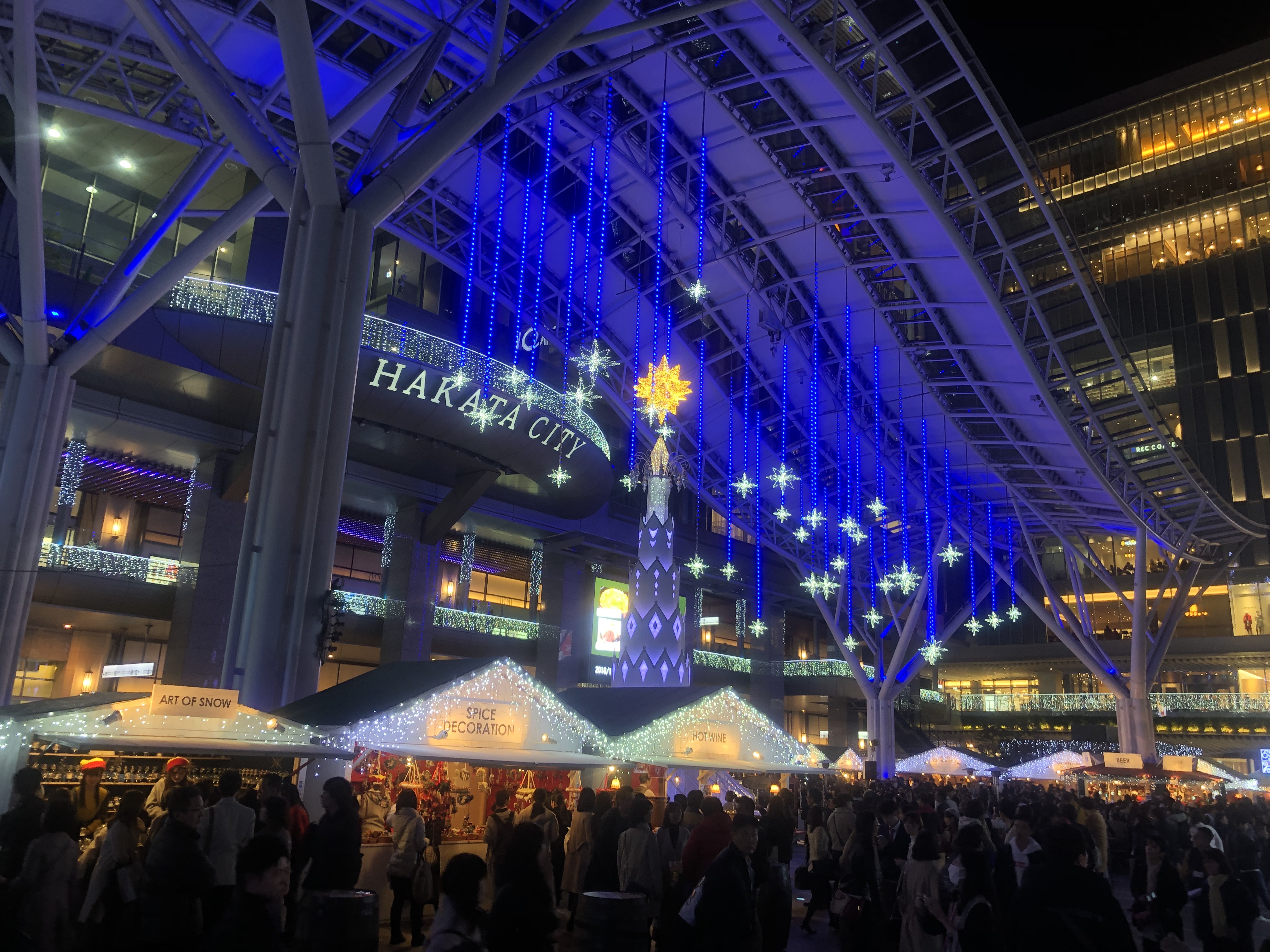 This year dubbed 'Hikari no Machi', or Starlight Town, the Hakata Christmas Market is certainly a glorious vision in shimmering white, blue and cyan light with illuminations in shapes of leaves and branches spreading around the trees and reaching above the heads of everyone, from the smiling and joyful friends taking selfies to the romantic partners serenading in the glow. You could spend a good amount of time just enjoying the illuminations, the elegant centrepiece of which is something that looks straight out of an Elvish kingdom in The Lord of the Rings.

Next to these illuminations is the market itself, dominated by around 40 small stalls set up around the music stage and enough seating for everyone to sit and enjoy the marvellous food and drink on offer. Coming from London, I was pleasantly surprised to see this as our markets are a bit bigger but we have to stand in the cold! Indeed, if you are familiar with Christmas markets in Europe you will not feel far from home at the Hakata Christmas market.
As well as pancakes, pies, hotdogs, cheese steaks and German sausages to warm you, there are a wide variety of drinks on offer for every palate. Hot chocolate, soups, beers from near and far (including Germany, to enjoy with your German sausages) and all manner of wines. The Glűhwein is a festive favourite and for 1000 yen you get a delicious brew in a souvenir mug you can take home with you! Just remember to accept the plastic bag they offer or you'll have to carry it all the way home (like I did).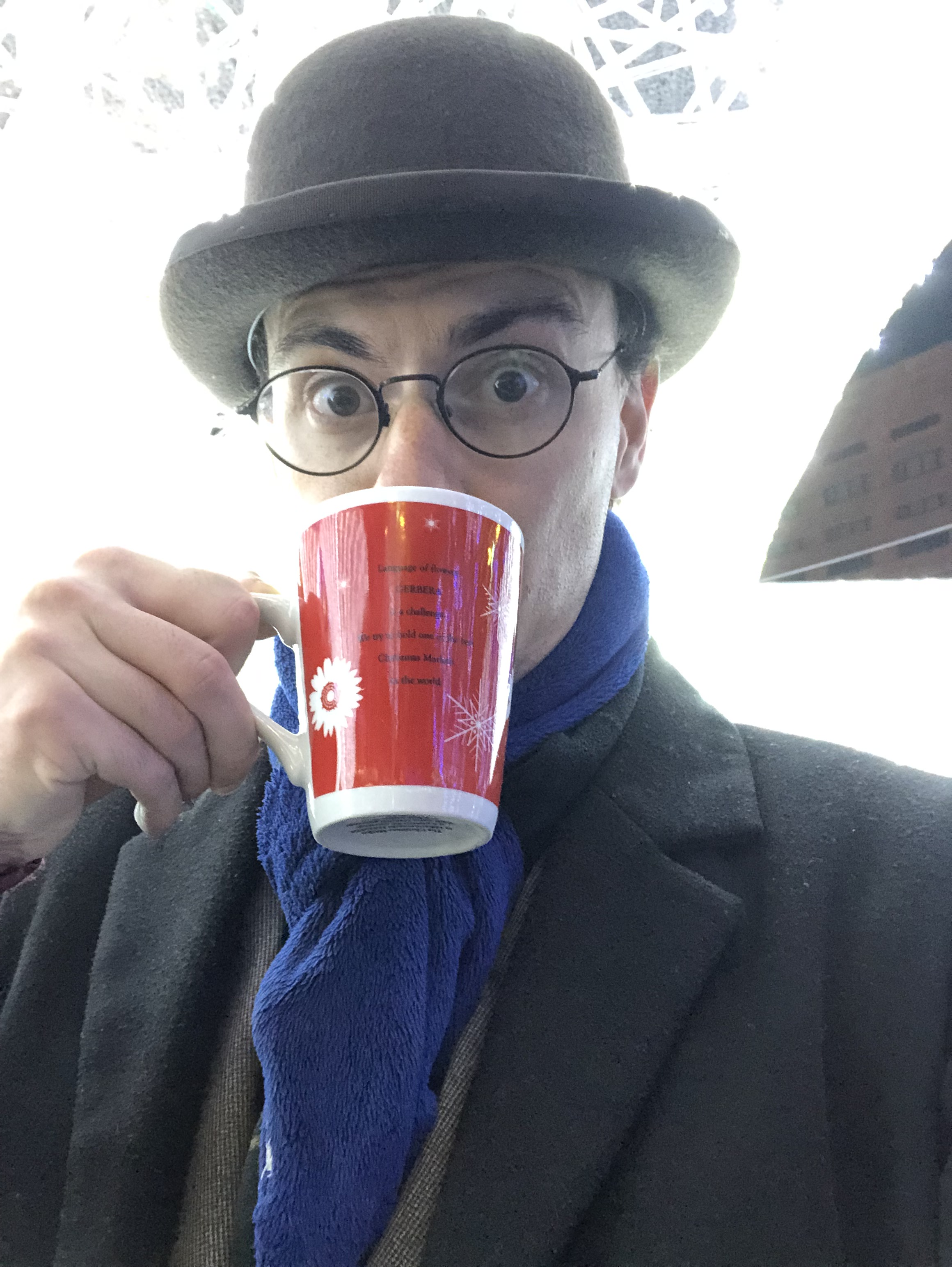 After eating and drinking to your heart's content, there are stalls that sell arts and crafts from far and wide (there is even a stall called Gifts From Afar).
From the shop stalls you can find beautiful glass candle holders and handmade accessories for inspired gift shopping ideas, pottery from Poland and miniature wooden merry-go-rounds which turn on their own when you light a candle. No matter where you look, the stalls give a warm nostalgic Christmas glow to escape to if you've spent the day Christmas shopping in big cold department stores. Want to give someone something truly unique this Christmas? Belle Epoque can even offer you oil paintings large or small (sadly you're not allowed to photograph the beautiful artworks)!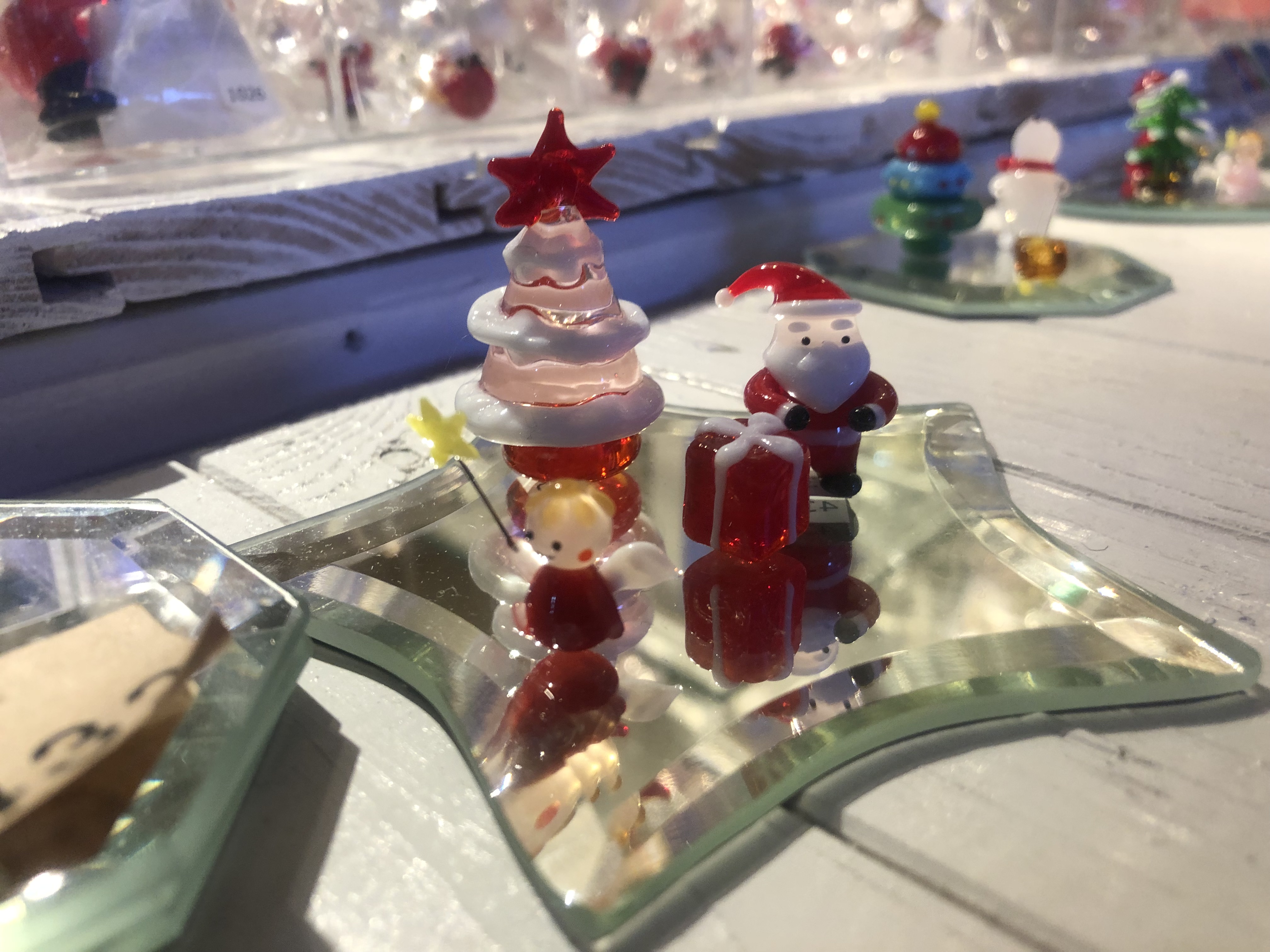 The core of the market is the seating area from which one can enjoy live music every day from 17:30 on weekdays and 12:30 at the weekend. Check the website for the schedule but there is something for almost every taste. The band I saw performing, called Chicken Nuggets, were so kind as to offer autographs just off the stage after the show.
For those from far away who may be missing the Christmas comforts of home, the Hakata Christmas Market will fill you with cheer and bring a sparkle to your festive season. Take a friend, raise a cup of wine and let your voice rise above the din of the city with a 'Merry Christmas!'.
Hakata Christmas Market
Every day until 25th December
http://christmas-market.jp/hakata/
Mon – Thurs 17:00-23:00 / Fri 17:00-23:30 / Sat 12:00-23:30 / Sun & Holidays 12:00-23:00