Check out Miyajidake Shrine, known for its spectacular sunset and famous "Road of Light"!
Feel Fukuoka Japan writer Oyaji, Kyushu born and raised, shows us some of Kyushu, Japan's best natural scenery and photo spots!
Today I would like to show you a local attraction made famous by the JAL commercial starring popular Japanese idol group Arashi: Miyajidake Shrine! Thanks to this commercial, Miyajidake Shrine was soon famous throughout Japan and among Japan enthusiasts worldwide.
The setting sun and the road leading up to the shrine come together to create a visual masterpiece
Miyajidake Shrine is located in the city of Fukutsu, located smack in the center between the cities of Fukuoka and Kitakyushu. Miyajidake Shrine is perhaps best known for its spectacular "Road of Light".
Here, have a look! Just looking at it gives me goosebumps, even in pictures!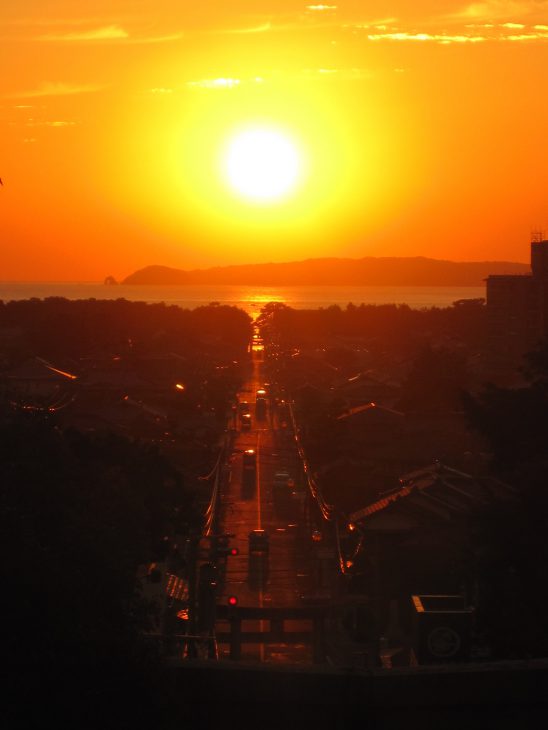 This natural masterpiece really steals the show as the setting sun shines down on the road which connects Miyajidake Shrine straight out to the sea. Visitors come from all over Japan and even the world to catch a glimpse of this spectacular sight and memorialize it in a photo.
s place twice a year in February and October. And because other conditions such as the weather also have to be just right in order to see it, it is this fleeting nature that makes it all the more impressive a sight to see. During the fall season when the Road of Light takes place a festival known as the Sunset Festival is held. Here you can also witness the Tsukushi dance, an age-old traditional dance passed down for generations among the Azumi people. This "fantasy dance" is performed only at the shrine's Senza Memorial Festival.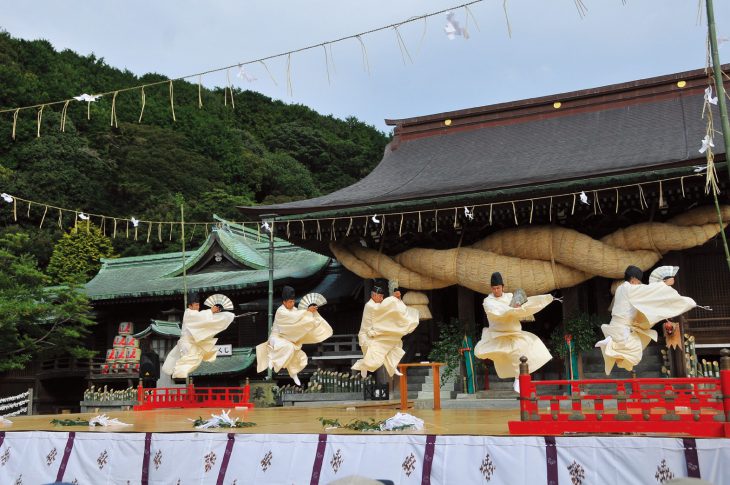 (Courtesy of the Miyajidake Shrine official website)
Miyajihama Beach
At the end of the beautiful path which stretches all the way from the shrine out to the sea you will find Miyajihama Beach. This beach is great for swimming and surfing and in recent years has become lined with trendy (too trendy for the likes of me?) cafés bustling with young people. If you come by car, you can take a drive along the coast or you can park somewhere along the way and take a stroll around. The sunset in particular is beautiful no matter when you come.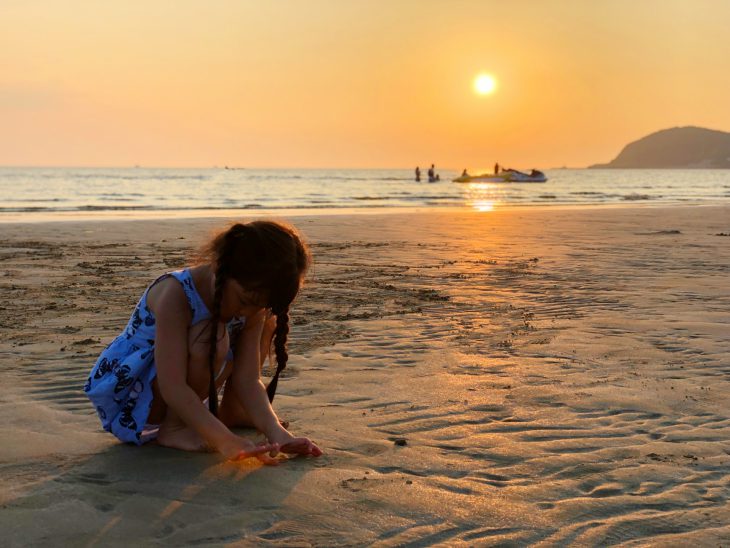 Best Three in Japan
Miyajidake Shrine is also well known for its large copper bell, its giant taiko drum, and its shimenawa (sacred shrine rope), each the biggest of its kind in all of Japan!
First up is the massive 450kg copper bell. I bet there aren't many people out there who have what it takes to ring this bell! Second is the giant taiko drum measuring 2.2m in diameter. This is the largest taiko drum made in Japan and crafted entirely out of domestic materials! Both have their own shrine dedicated to them. To really appreciate their size you need to see them up close in person!   
And finally, we have the massive shimenawa rope which hangs from the front shrine and measures 2.6m in diameter and 11m in length.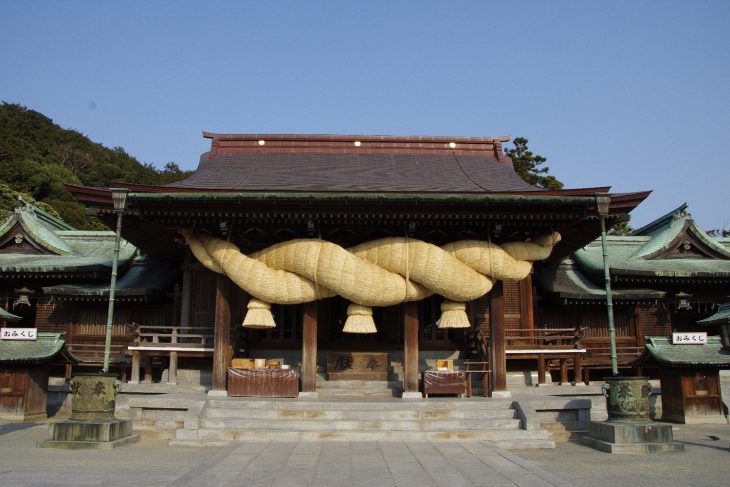 (Courtesy of the Miyajidake Shrine official website)
This sacred rope weighs a massive three metric tons! Can you even imagine how big it must be for each individual straw to come together to create something that weighs three whole tons? This enormous jaw-dropping sight will have you oohing and aahing for sure!
The rope also supposedly holds the written prayers of those participating in the "prayer to the giant oshimenawa". With a rope this big, it's got to be able to hold a whole lot of prayers! 
Power spot: Okunomiya Hachisha!

But that's not all that Miyajidake Shrine has to offer! Even before the shrine became famous for the "Road of Light", its eight inner shrines known as Okunomiya Hachisha were already recognized by those in the know as a local "power spot" ("power spots" are places in Japan which are believed to give visitors healing energy) with the power to make your greatest wishes come true. 
It is believed that if you take a walk around the many shrines found behind the main shrine (this is known as "Okunomiya Hachisha Meguri") that you will be filled with this power spot's healing, refreshing energy. Well, I guess a lot of shrines in Japan are also said to have power spots.
The inner shrines of Miyajidake Shrine also have a "stamp rally" activity where you take a stamp card and collect stamps from each of the eight shrines to complete your card.
Miyajidake Shrine holds a number of different events all year long and there are so many other details I'd like to tell you about, but I definitely think it's better that you go and experience them in person. So what are you waiting for? Go on and check out Miyajidake Shrine for yourself!
Information