Limited to summer! A Fun experience of picking and eating blueberries in Kurume!
Summer is in season for blueberries in Japan.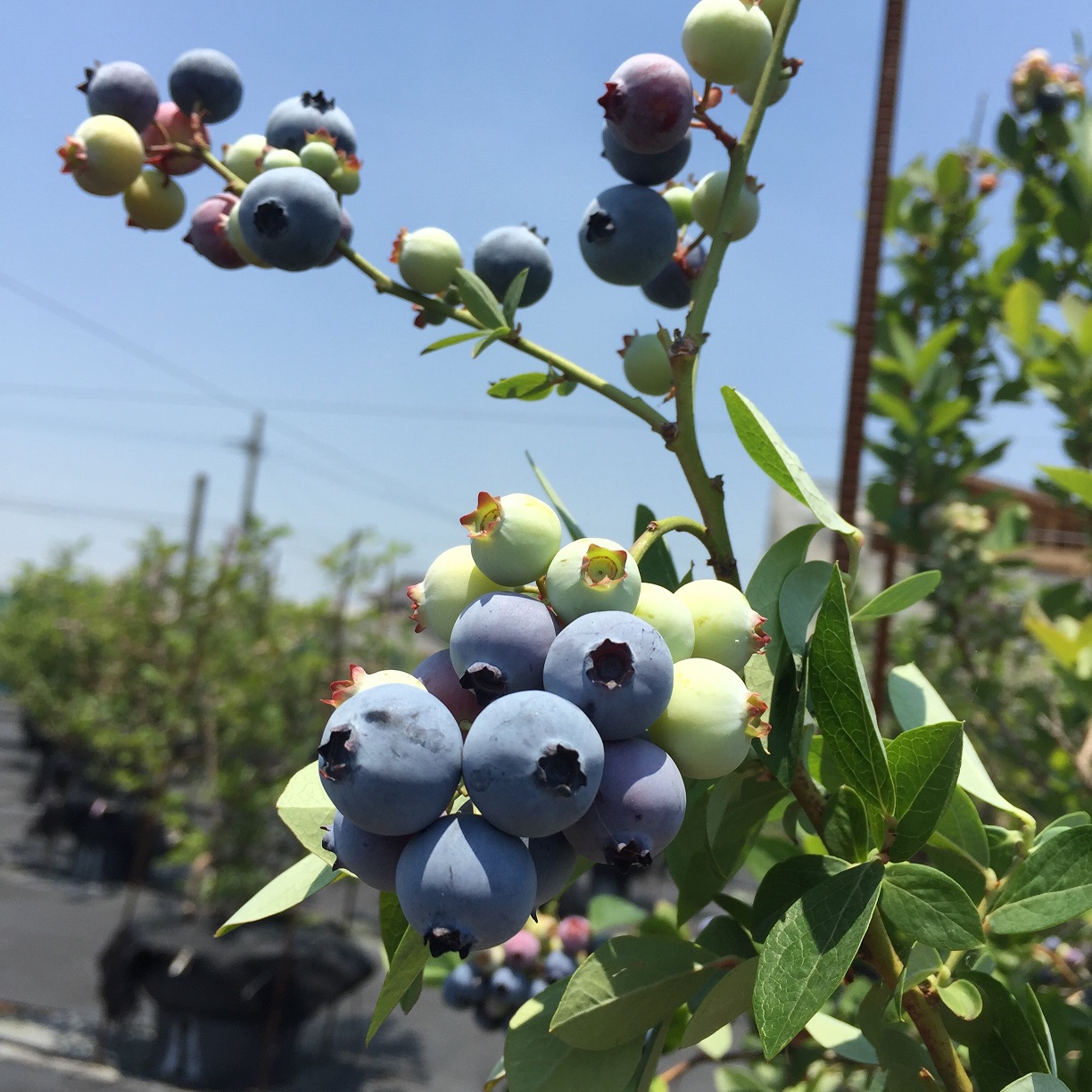 How about having an experience of picking blueberries in this summer trip?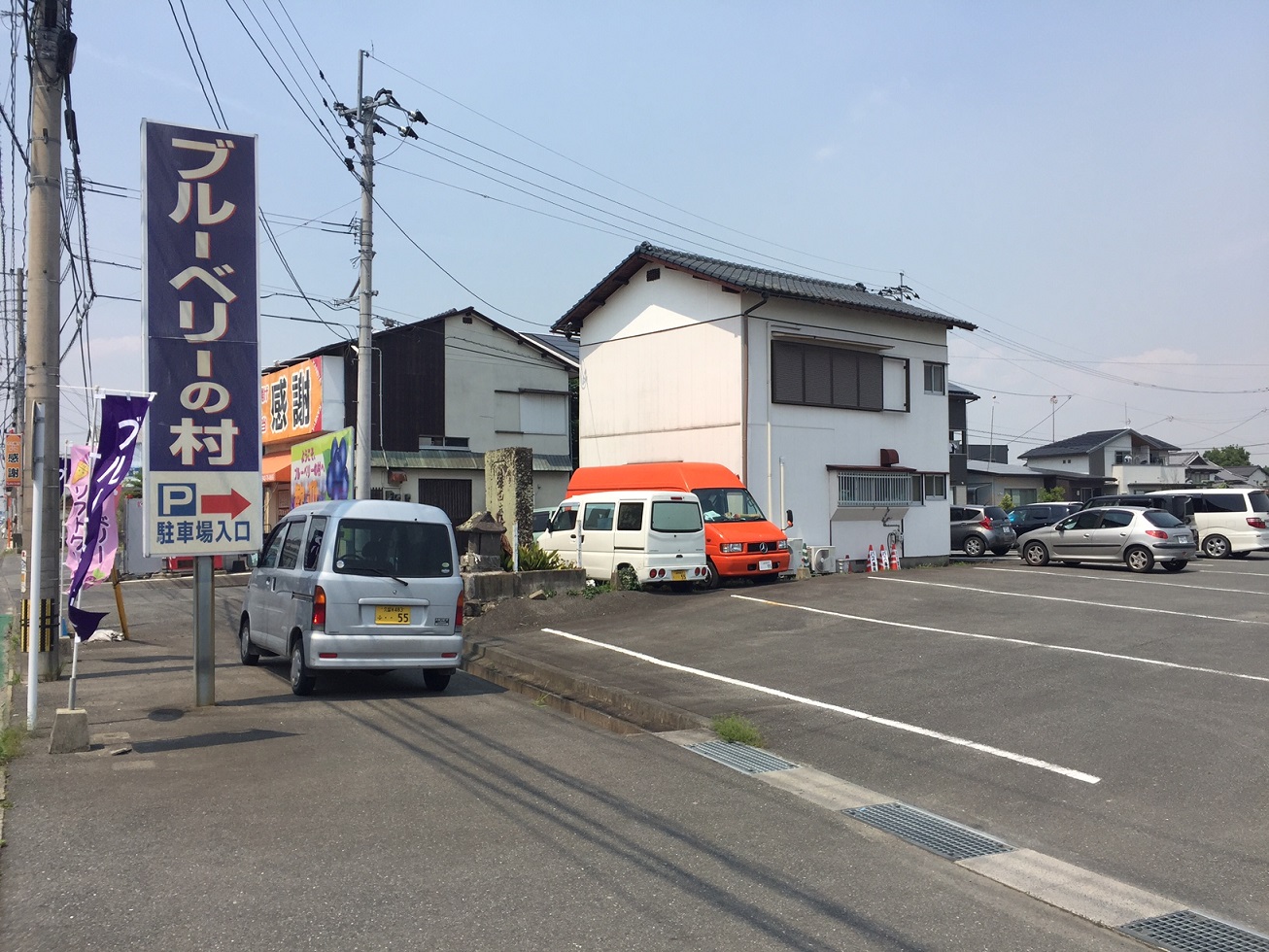 This time, I've been to the "blueberry village" open from 6/1 to 8/31. The entrance fee for adults is 700yen and 300yen for kids (under 4years old), and you can enjoy without any time limits.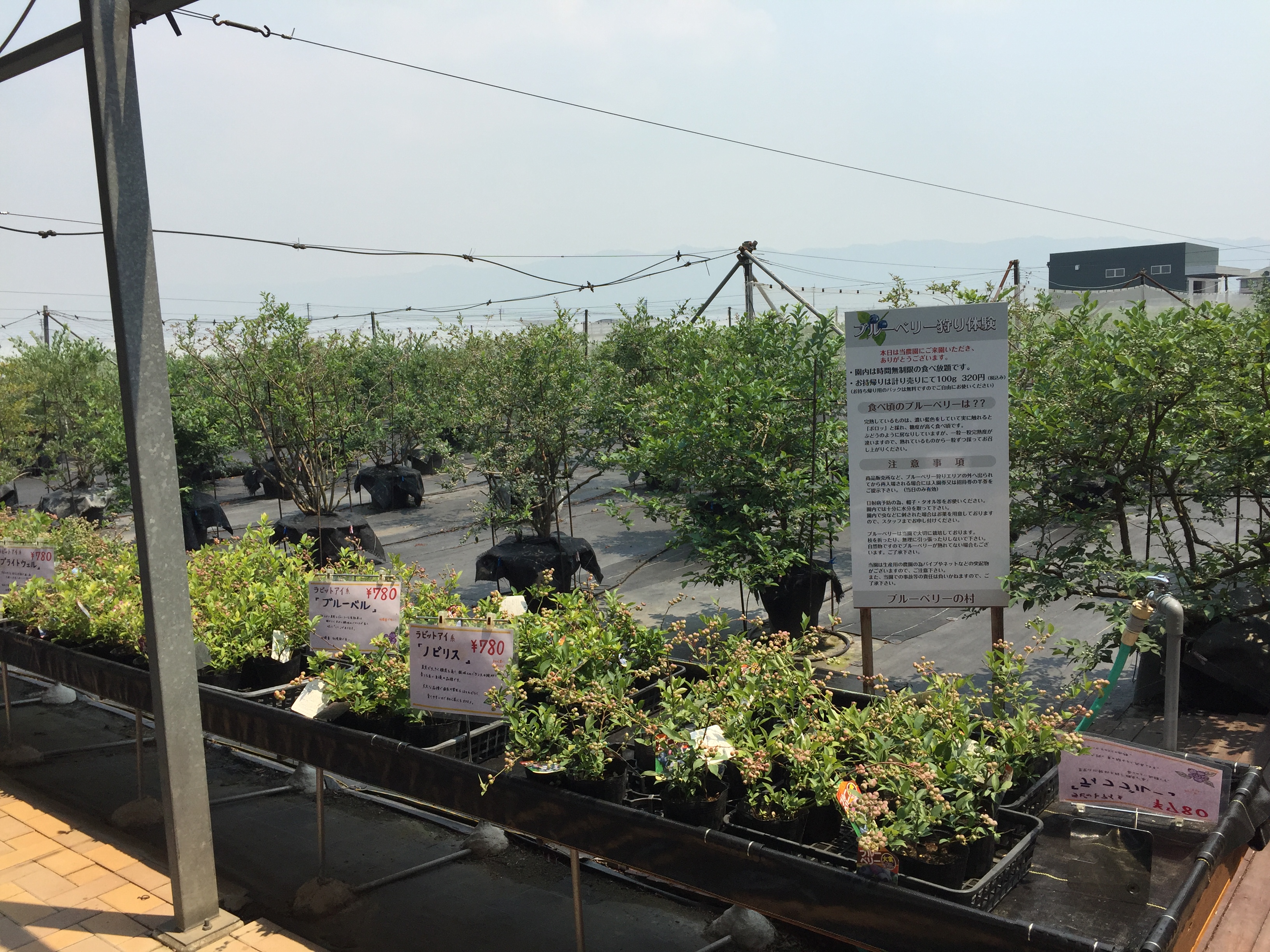 In this farm with the size of 15,000㎡, they are growing about 10 varieties and 4,000 blueberry trees. The picking place is divided into June/July and August, so that you can enjoy as much of pickings as you like.
Rain wouldn't be a problem because it has a vinyl green house.
Pick and eat ripe blueberries!
When I visited, it was the beginning of June. During this period, you can take your time enjoying the blueberry picks because there are less people as it's before the summer break starts.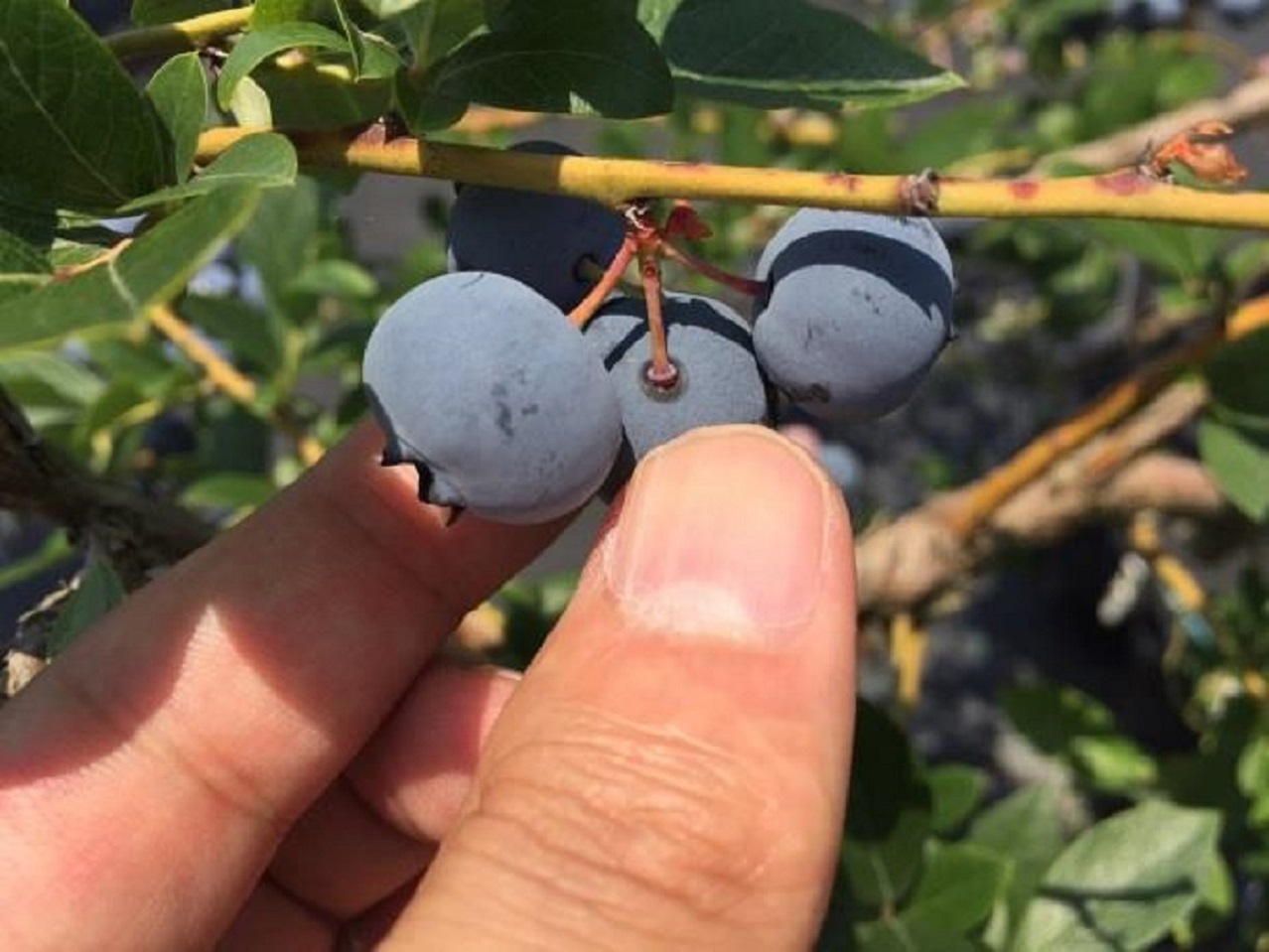 Let me introduce the way to distinguish sweet and delicious blueberries before picking blueberries! The whole fruits and branch parts of ripe blueberries are of dark purple. As you move the branch parts slightly up and down, it would come off easily. Fresh blueberries are covered with white powder evenly which contains the nutrients of fruit. They look so yummy!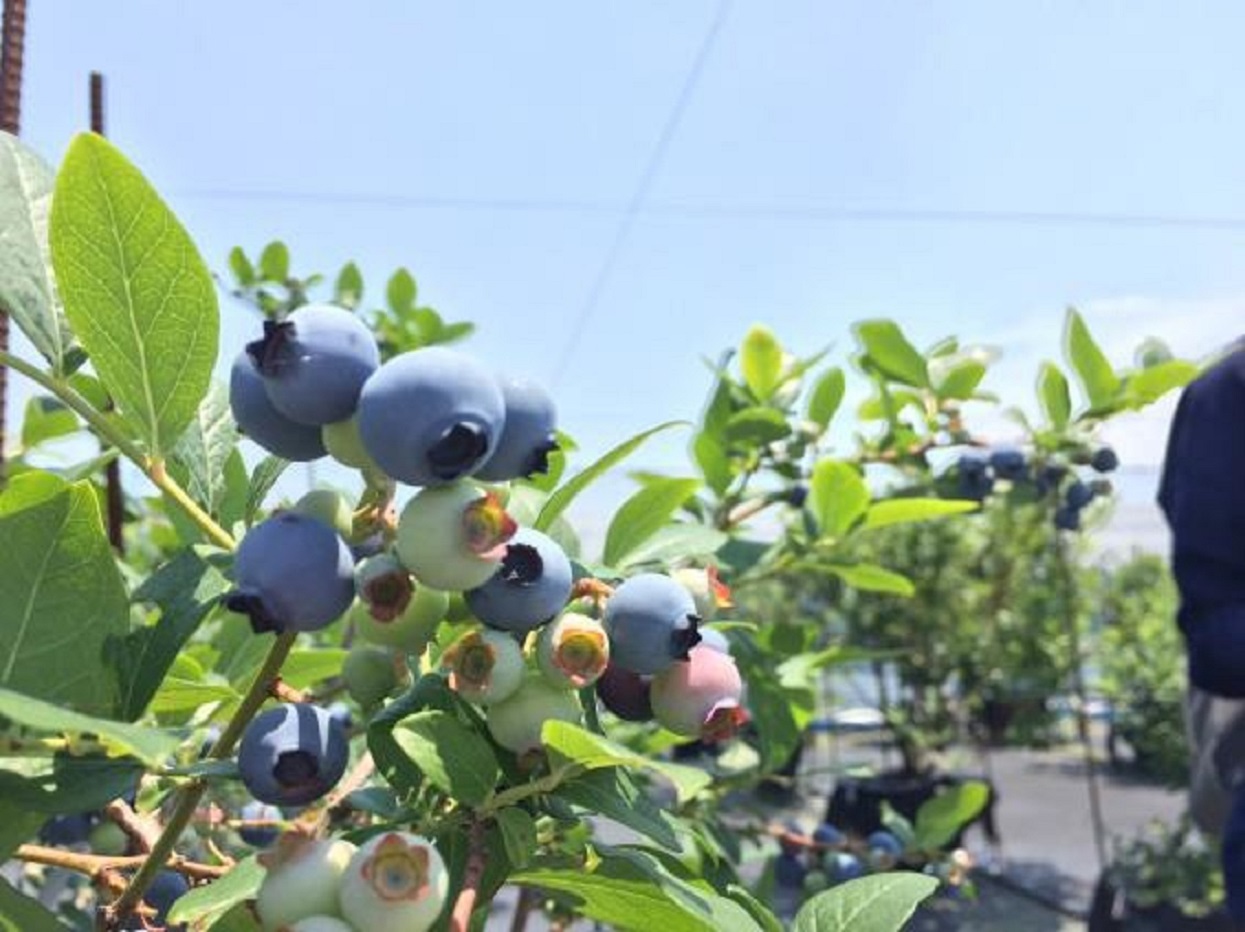 Let's begin the experience of blueberry picks! What a perfect weather for picking today is!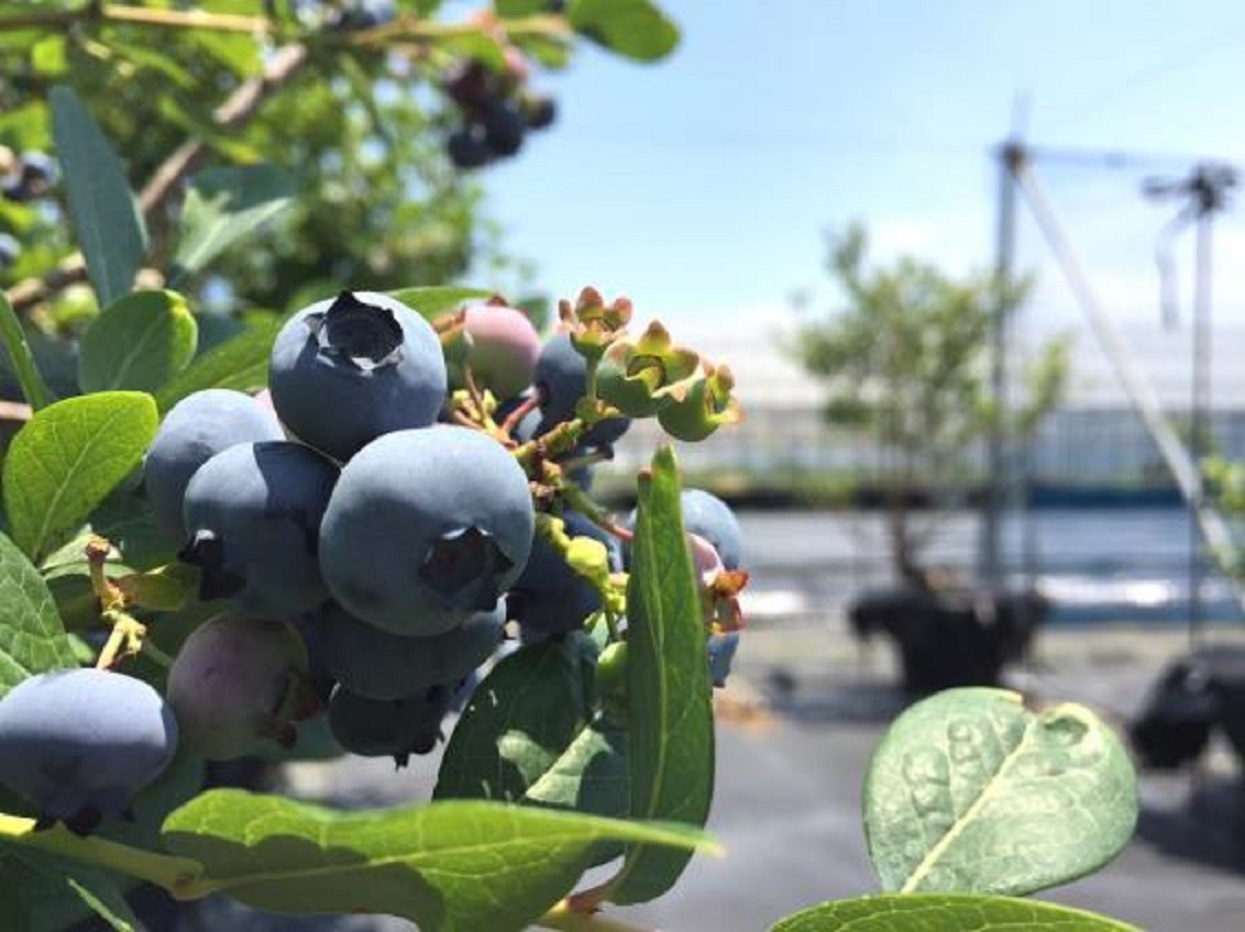 Under the blue sky, it's fun to taste blueberries as you pick one by one. You will get full as you keep on eating big blueberries. Don't forget to take blueberries picked home!
It's about 40minutes after starting to pick. Although it's June, it's so hot that sweat keeps coming out. In this case, it's better off take a short break feeling the wind of nature in the shade.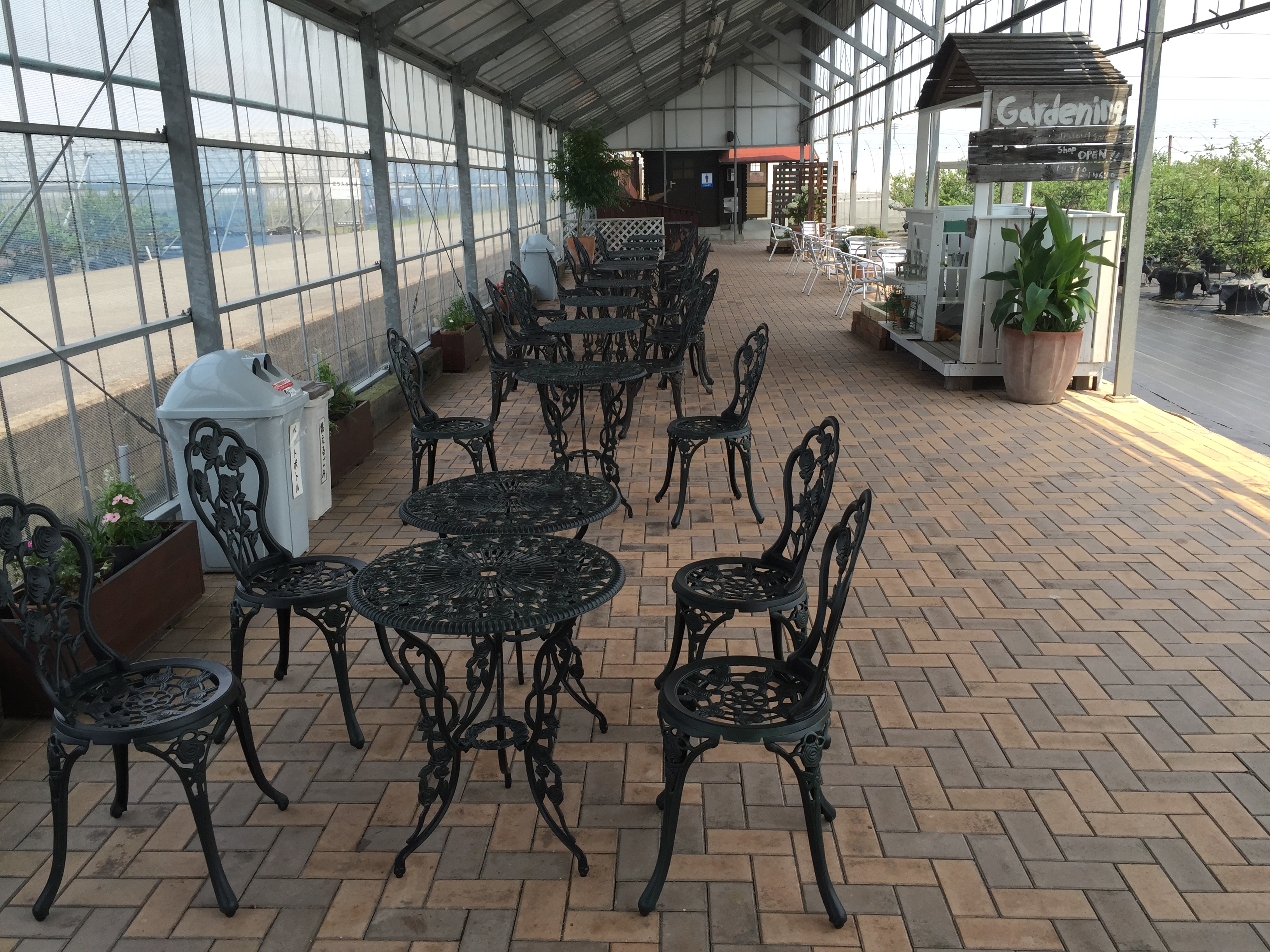 You'd better bring a hat and a towel in the strong heat. That's how you can have more fun without being dehydrated.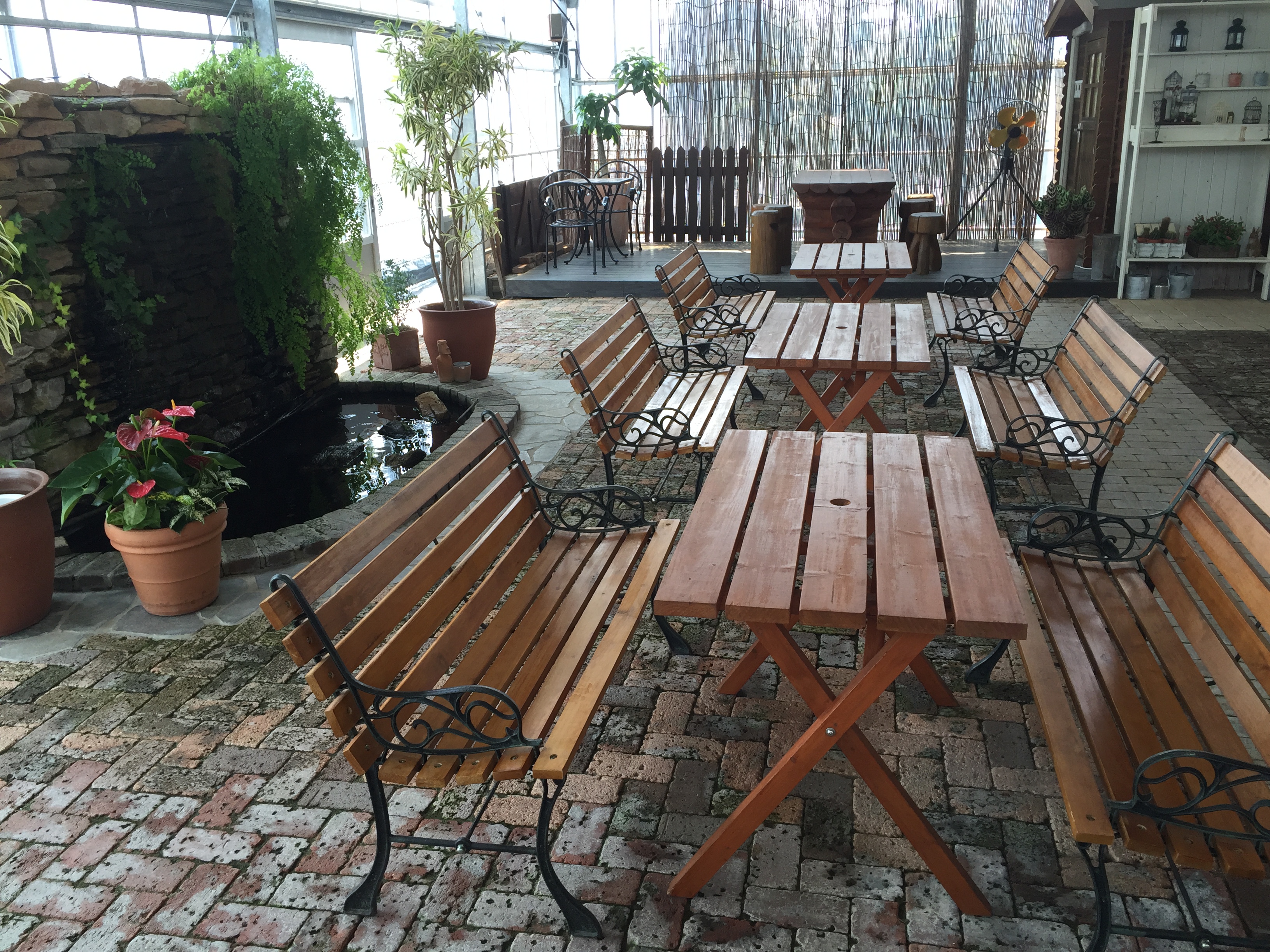 These are blueberries handpicked with the warm heart for friends and family. One of excitements in picking blueberries is to wrench one by one with care, recalling people to whom you present blueberries and wondering "which is well ripe?" You can bring blueberries that you've picked for 320yen per 100g. You can purchase fresh blueberries much cheaper than at stores.
Let's enjoy blueberry dessert at a café terrace!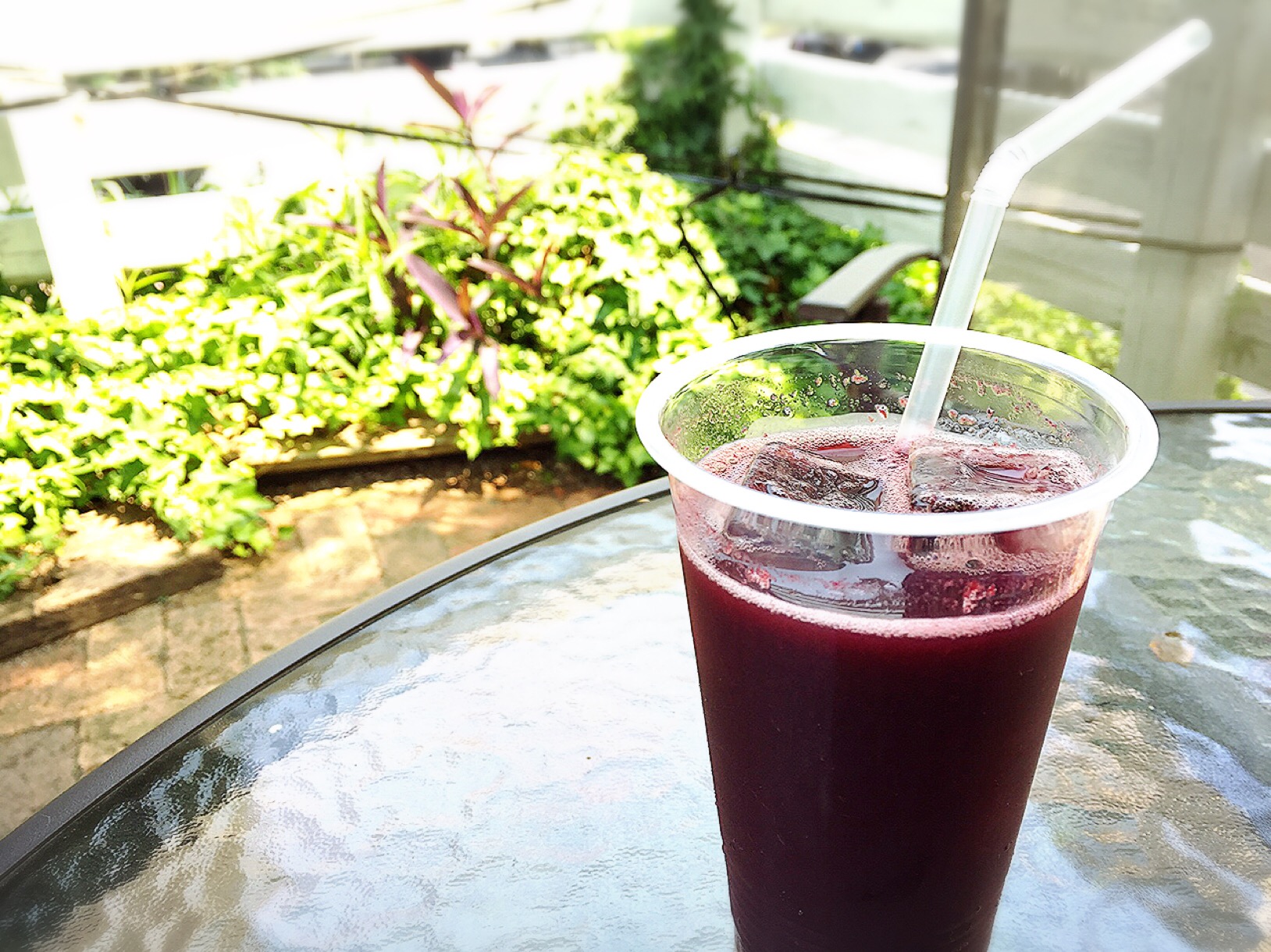 Take a sip of fresh blueberry juice (300yen) when tired after the blueberry picks are done! It's a cool and refreshing taste that makes the heat less intense.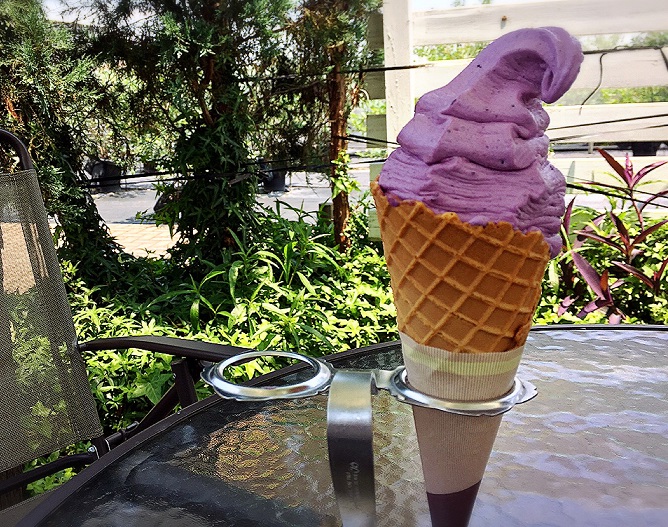 Grab a bite into a blueberry soft cream (400yen), the special dessert of "the blueberry village" which is served heavily with blueberries and milk and mixed with soft cream. It's a popular dessert that contains the flesh of blueberries
Besides that, there are a frozen blueberry (350yen) and a blueberry shaved ice (350yen). Hours for the last order are 16:30 on weekdays and 17 on weekends.
Presentation of blueberry products!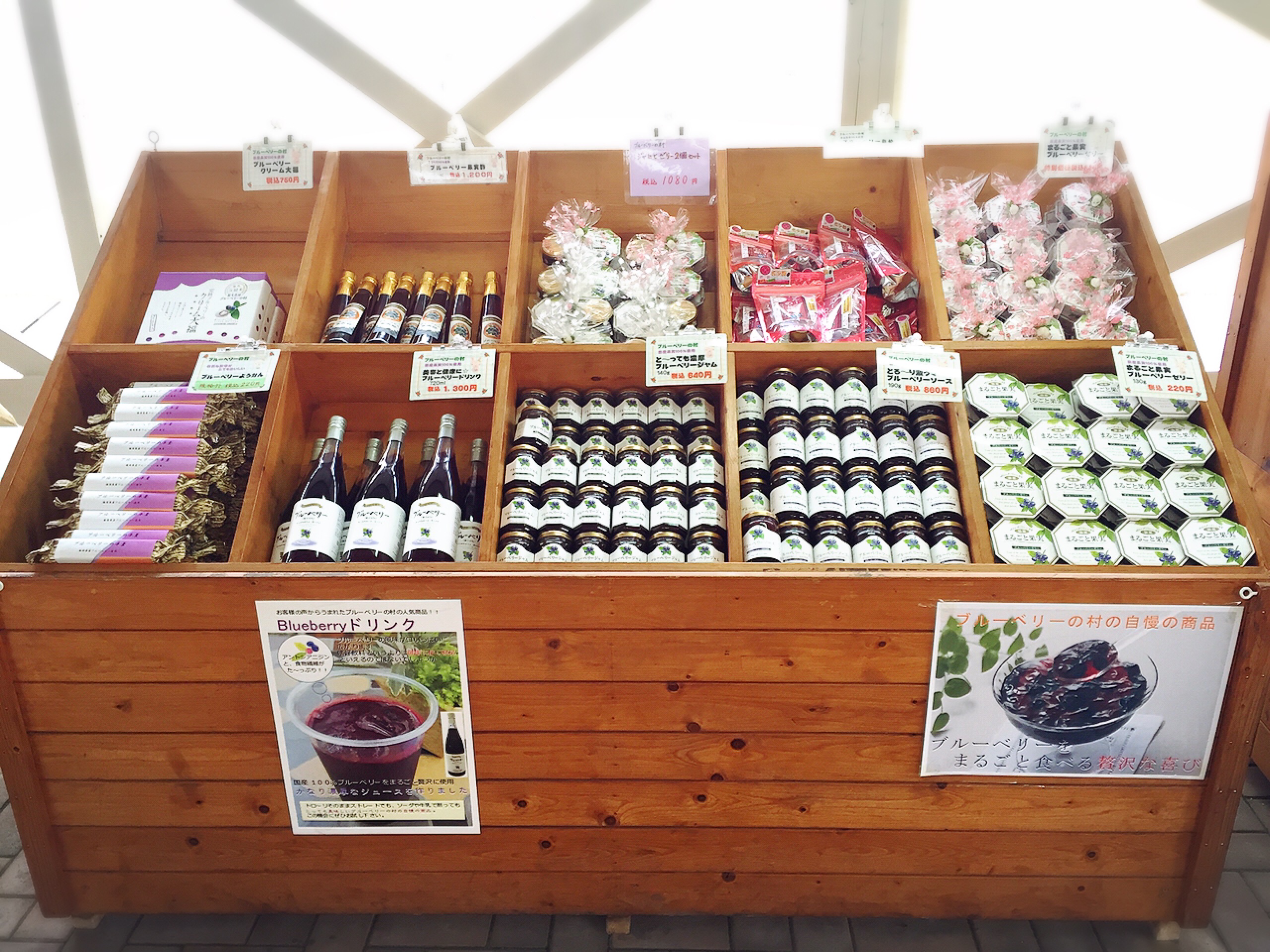 In "the blueberry village", nursery plants, various seedlings, gardening merchandise, jams, jelly juices, wines, and vinegars are for sale. ※ Products could be different depending on season.
The Season for blueberries is July and August. Why don't you try blueberries with family, friends, and lover?
Make summer memories with precious people!
The blueberry village