New Fukuoka City Official "Castle Stamps" On Sale Now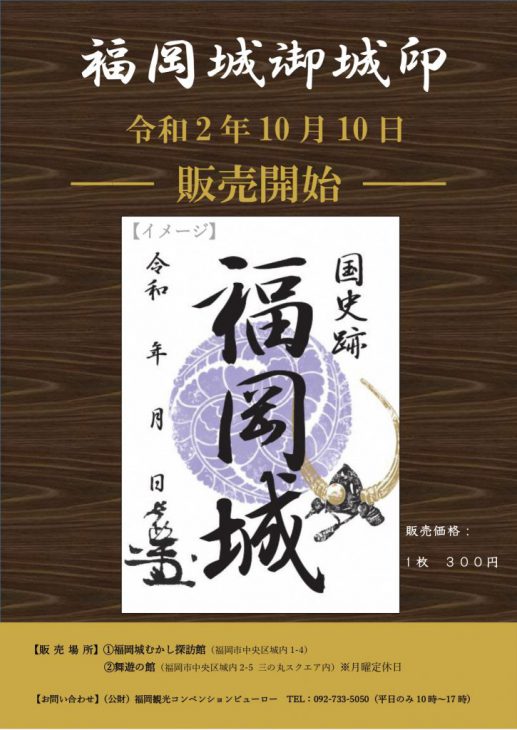 ①Castle Stamps
In recent years a new craze has emerged among castle enthusiasts: a memorial stamp to take home as a souvenir of your visit to a given castle. As Fukuoka Castle itself has been receiving more and more inquiries about memorial castle stamps, they have decided to launch the sale of their own Fukuoka Castle memorial stamps to help spread the word about the wonders of Fukuoka Castle! 
②Design
The Fukuoka City official memorial castle stamp design features Fukuoka Castle founder and first daimyo of the Kuroda Clan Kuroda Nagamasa's beloved "black-lacquered peach-shaped helmet with side decorations in the shape of large water buffalo horns" and Kuroda Nagamasa's own handwritten official seal (used as the military commander's signature) from the Fukuoka City Museum Kuroda Clan historical collection.
③On Sale Now
・On sale starting October 10, 2020
・Cost: 300 yen per stamp
*Change is low in supply, so please try to bring exact change whenever possible. Payment must be made in cash; credit cards not accepted.
・Place of sale:
【Fukuoka Castle Ruins Visitor Center】1-4 Jonai, Chuo-ku, Fukuoka-shi
(Opening hours: (9:00am-5:00pm)
【Sannomaru Square – MY-YOU no Yakata】Sannomaru Square 2-5 Jonai, Chuo-ku, Fukuoka-shi
  (Opening hours: 10:00am-5:00pm. Closed Mondays.)
・Inquiries: Fukuoka Convention & Visitors Bureau (Foundation)
  TEL:092-733-5050(Weekdays only 10:00am-5:00pm)
年末年始の販売について
『福岡城・御城印』(福岡市公式)、年末年始の販売についてお知らせいたします。
下記の期間、販売施設が休館となりますので、御城印の販売もお休みとさせていただきます。
  休館日: 2020年12月29日(火)~2021年1月3日(日)
  年   始: 2021年1月4日(月)9時から開館致します。
   開館時間:9時~17時
②舞遊の館(三の丸スクエア内)
  休館日:  2020年12月29日(火)~2021年1月5日(火)
  年   始:  2021年1月6日(水)10時から開館致します。
  開館時間:10時~17時(月曜日定休日)