Don't miss these top 7 cherry blossom viewing spots in Fukuoka this year!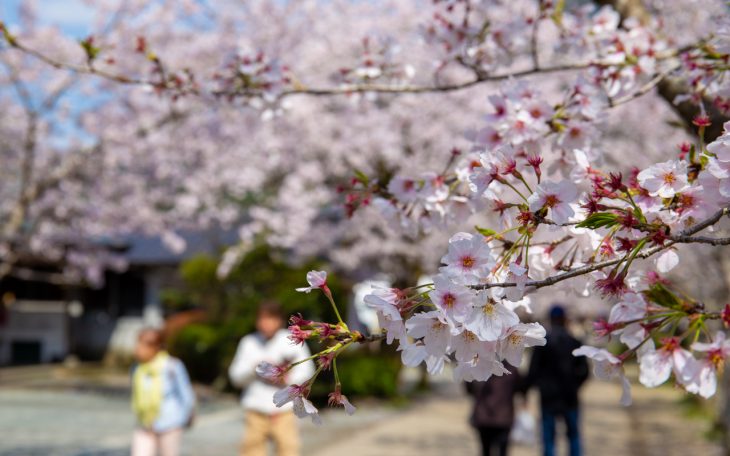 Hanami, or cherry blossom viewing parties, are an important spring tradition in Japan.
Today we'd like to show you seven of Fukuoka's most famous cherry blossom viewing spots that will hopefully get you excited for this year!
Southern Area
Akizuki Sugi-no-Baba Road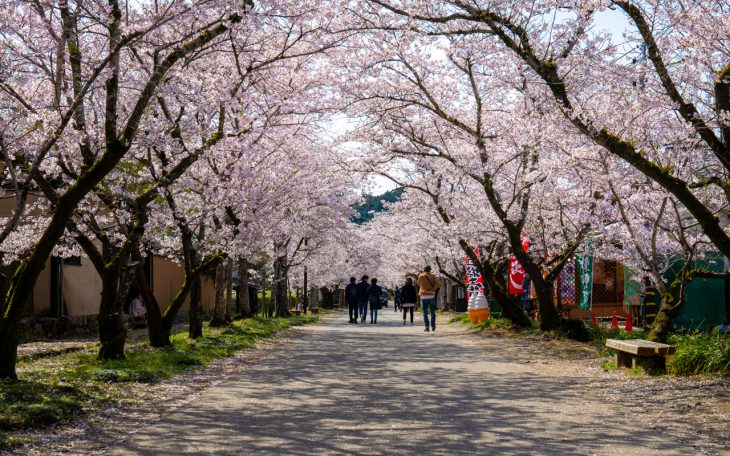 Akizuki is an old castle town which retains much of the atmosphere of its past history combined with a welcoming natural setting that the locals have made their home for generations. The road leading up to Akizuki Castle is lined with cherry blossom trees which when in bloom blanket the sky above, forming a so-called "cherry-blossom tunnel". Outdoor booths and food stands also set up shop during the season so you can stop by and check out the shops as you make your way through this tunnel of cherry blossoms.
https://goo.gl/maps/CRWTWYoJHjUdGYzG8
Nagarekawa Cherry Blossoms Lane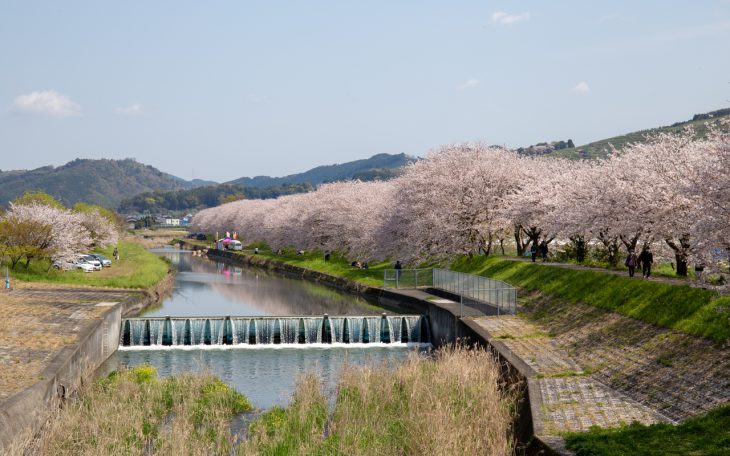 This tree-lined street stretches out for about two kilometers along the Kose River, where you will find some 1000 cherry blossoms in this famous hanami spot. Go for a stroll along the cherry blossom-lined river or enjoy a riverside bento lunch under the canopy of cherry blossoms. Be sure to cross over to the other side of the river on your way home to catch one last glimpse at the cherry blossoms reflected in the river!
https://goo.gl/maps/NUVMDUK4cyfTmHJr6
Kiyomizu Park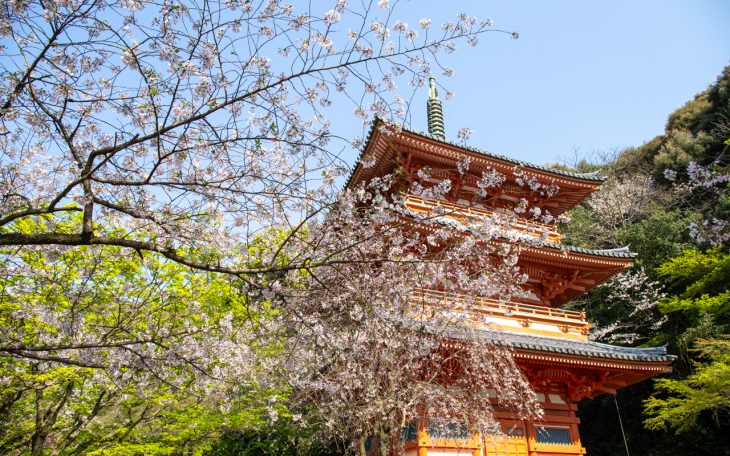 This park found along the Mt. Kiyomizu mountainside is also known and loved as part of one of the Kyushu Olle walking courses. The mountain itself boasts lush natural green scenery which perfectly highlights the pink hue of the cherry blossoms. Also along the path you will find Kiyomizudera Temple's three-story pagoda where you can take in the elegant natural scenery. Climb even further up the mountain and you can enjoy panoramic views of the foot of the mountain through the cherry blossoms in bloom, so it is definitely worth the hike!
https://goo.gl/maps/5ZkZzjktu1AfSxjZ7
The Giant Cherry Blossom of Asai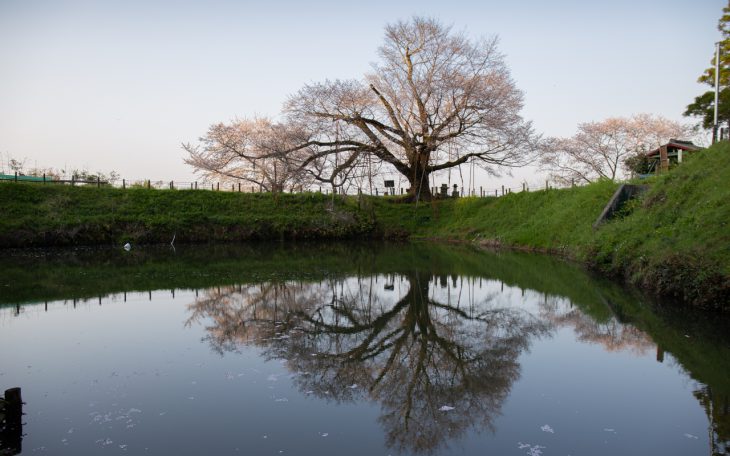 Said to be over 100 years old, this massive cherry blossom tree towers majestically above the adjacent pond whose waters paint a reflection of the tree creating a scene that is as if taken from a fairytale. Loved by the locals for generations, this giant tree is also illuminated during certain times of the year so you can enjoy a whole different shade of beauty depending on when you visit.
https://goo.gl/maps/oaQJvLwYbYA3og1i6
Northern Area
Mt. Homan – Kamado Shrine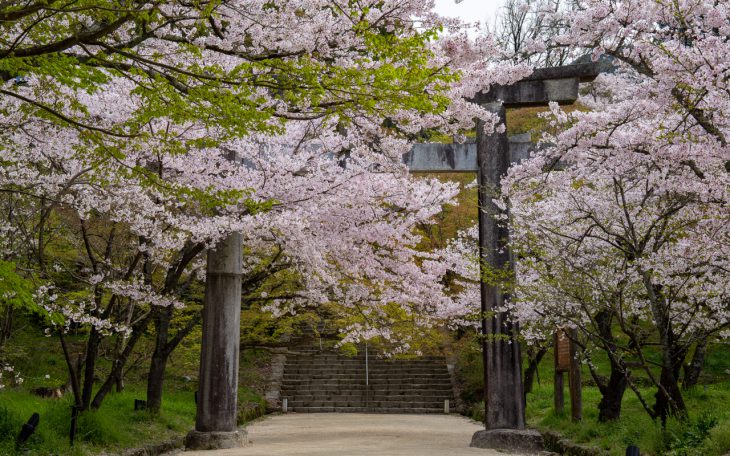 Make your way through the large torii gate adorned with cherry blossom trees and you will be transported to the calm, dignified atmosphere of this shrine. The quintessentially Japanese sight of the torii gate framed by cherry blossom trees is absolutely worth seeing at least once. Nearby you will also find the famous Dazaifu Tenmangu shrine, and many visitors take advantage and visit both at the same time. And rumor has it that the name of the protagonist from recent popular anime series "Demon Slayer: Kimetsu no Yaiba" actually originated here, so it has become a popular spot among anime fans as well.
https://goo.gl/maps/sHYKGmgLfrBaoVX69
Miyajidake Shrine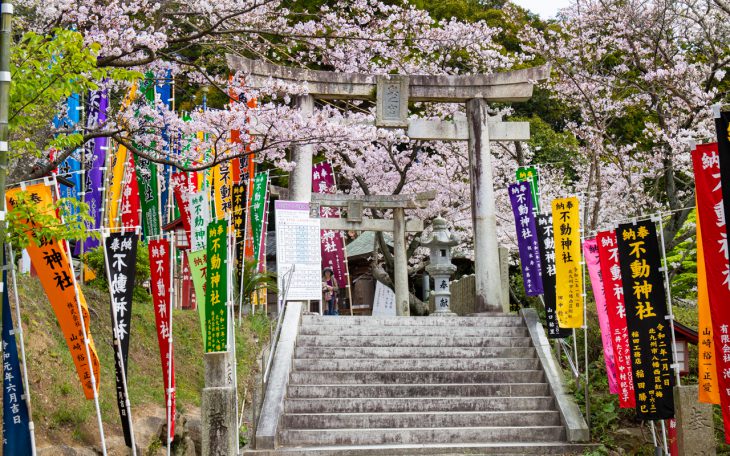 Miyajidake Shrine is famous for the path leading up to the shrine which extends straight out to sea and which in the months of February and October is referred to as the "Road of Light" when the evening sunset aligns with the path to create what is truly a magical sight. But Miyajidake Shrine is also famous for its cherry blossoms as well. Cherry blossoms are scattered throughout the grounds of this immense, majestic shrine, painting it with even more brilliant, colorful beauty. Adjacent to the shrine is a massive park where you will find plenty more cherry blossom trees, making this the perfect spot to stop and enjoy some hanami after your visit to the shrine.
https://goo.gl/maps/UpmpbEBjiKKGvH9B6
Uminonakamichi Seaside Park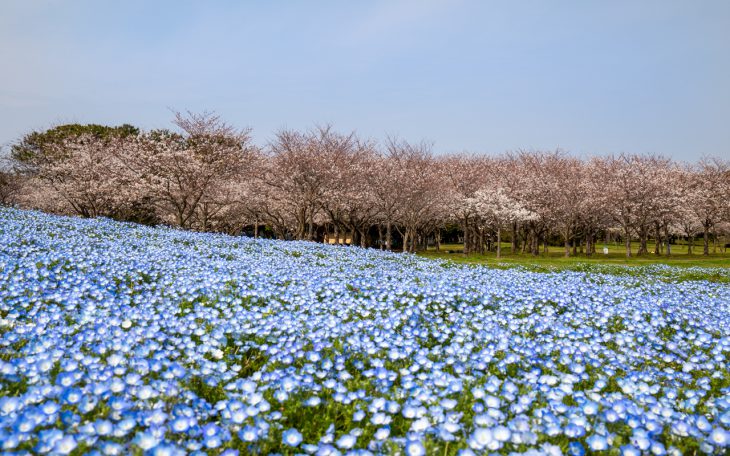 From its zoo and aquarium to its wide, open spaces and fields, you can enjoy a wide range of leisure activities at Uminonakamichi Seaside Park. More than just cherry blossoms, this park offers some unique natural scenery you won't find at any of the other famous cherry blossom viewing spots. Enjoy the unique natural beauty of the cherry blossoms and nemophila flowers as they come together to create a sea of pink and baby blue, or enjoy the colorful scenery painted by the marriage of the yellow rapeseed flowers and pink cherry blossoms. Take a bike ride along the cherry blossom-lined cycling path, or simply enjoy the breathtaking beauty of the cherry blossoms themselves.
https://goo.gl/maps/eXsW9U7bkFGkv2yv6
So what do you think of these famous cherry blossom viewing spots here in Fukuoka? Be sure not to miss out on this fantastic and quintessentially Japanese springtime experience this year!