Journey to the Kingdom of Lights, back again this year at Huis Ten Bosch!
Watch a fairytale of your very own come to life at this fantastic city of lights. Bring that special someone and experience the otherworldly atmosphere of a remote land illuminated by the brilliance of some 13 million shining lights for an unforgettable evening you will never forget.
Back once again this year, Huis Ten Bosch presents its fabulous Kingdom of Lights festival.
The Kingdom of Lights festival has been named the best lights display in all of Japan for eight whole years straight. So today we're going to show you some of the highlights as well as some general info about this classic Huis Ten Bosch festival which continues to dazzle us with fantastic new lights displays year after year.
Back once again this winter: The World of Silver and Lighting Ceremony
After last year's success, the World of Silver is back once again this year in Huis Ten Bosch's Amsterdam City. Here you can enjoy the World of Silver lighting ceremony to the backdrop of live music for an unforgettable moment of magic immersed in the shining brilliance of the Kingdom of Lights.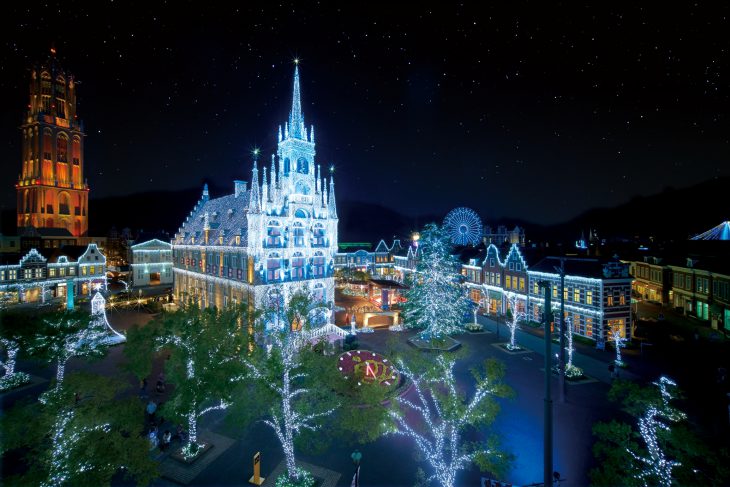 Location: Amsterdam Square – Stad House
New: Christmas Lights!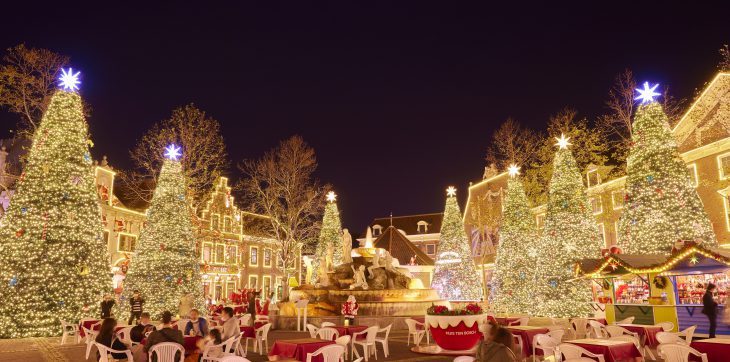 Take a stroll through this authentic European Christmas town alive with the shining champagne gold lights reminiscent of a traditional Christmas Eve abroad and the breathtaking sight of the Christmas Market enveloped in soft golden hues.   
Location: Attraction Town
Ferris Wheel of Lights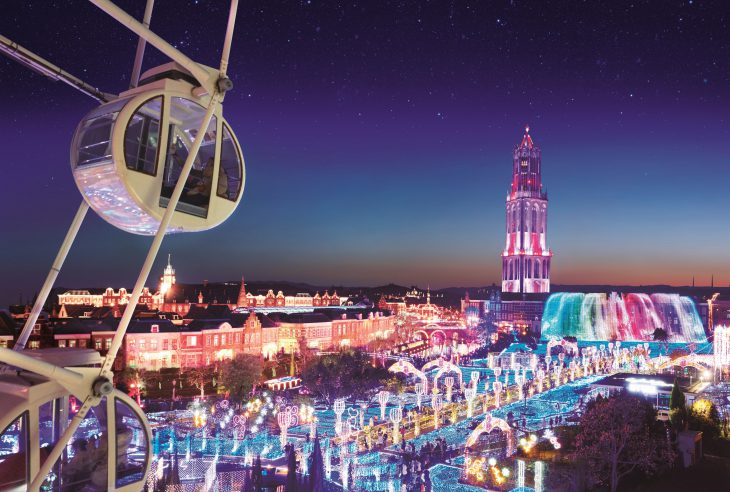 Enjoy fabulous panoramic views of the bright, shimmering city of lights as you take a ride through the night sky on this Ferris wheel adorned with some 70,000 shining LED lights. Just you and that special someone, on the Ferris Wheel of Lights no one will get in the way of the spectacular views of the Kingdom of Lights.
Location: Art Garden
Blue Wave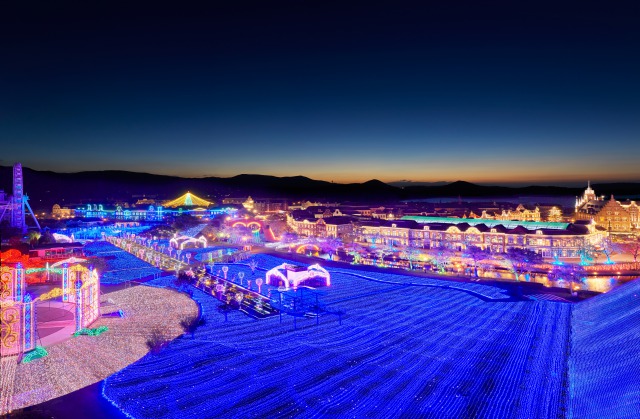 Immerse yourself in the azure hues of this majestic sea of lights. Experience the magic of the park's largest garden painted blue as far as the eye can see – it is as if you are gently floating amidst a veritable wide open ocean of lights for a most impressive sight.
Location: Art Garden
Light and Fountain Canal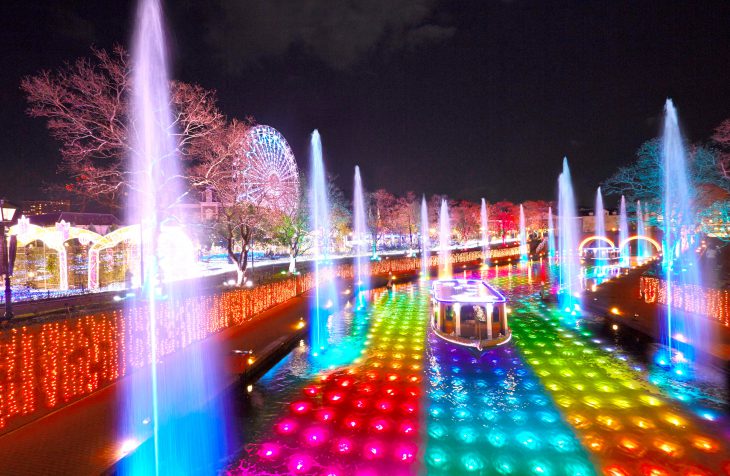 Enjoy the joint performance of the rainbow of lights and colorful fountains against the backdrop of this lovely canal. Light and water take center stage in this happy, colorful show.
Location: The canal between Amsterdam City and Art Garden 
Back again this year is Huis Ten Bosch's must-see Kingdom of Lights. The event runs through Wednesday, May 5, 2021, so be sure to head to Huis Ten Bosch and make some unforgettable memories together with your loved ones – a friend, family, or maybe even that special someone.
Information
Website
https://www.huistenbosch.co.jp
Opening hours
Standard opening hours: 9:00am-9:00pm
*Hours subject to change by season or day of the week.
Please visit the official Huis Ten Bosch website for more details.
Open seven days a week
Address
〒859-3292
1-1 Huis Ten Bosch Machi, Sasebo City, Nagasaki Prefecture
Inquiries
Huis Ten Bosch General Information Hotline TEL:0570-064-110