Two Taiwanese beauties discover the charm of the Kyushu National Museum
This time, we went to the famous sightseeing spot Dazaifu and visited the Kyushu National Museum. Our presenter Chien Chien lives for more than one year in Fukuoka, but never had been at the National Museum. Our second presenter Angela introduced it to her.
Fukuoka National Museum - National proud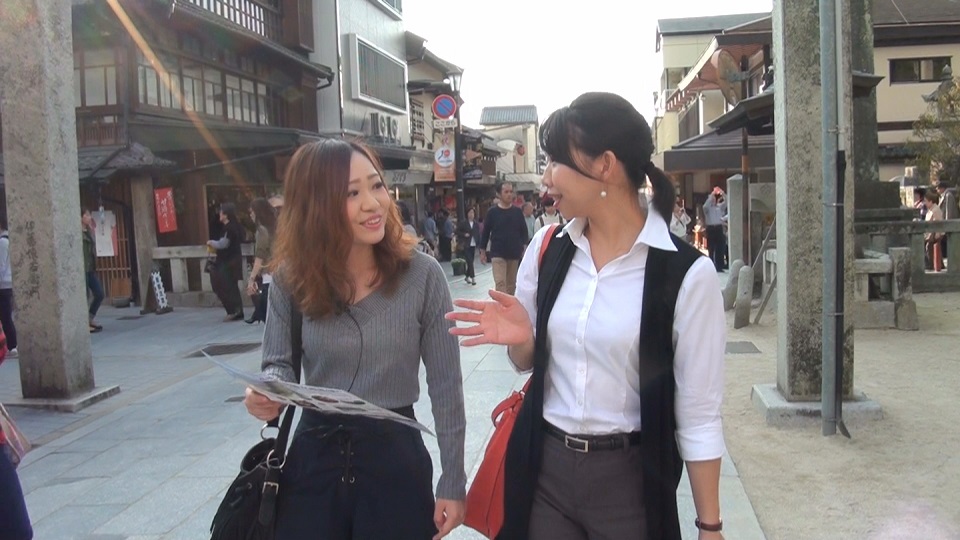 You can reach the Kyushu National Museum by going through Dazaifu Tenmangu shrine.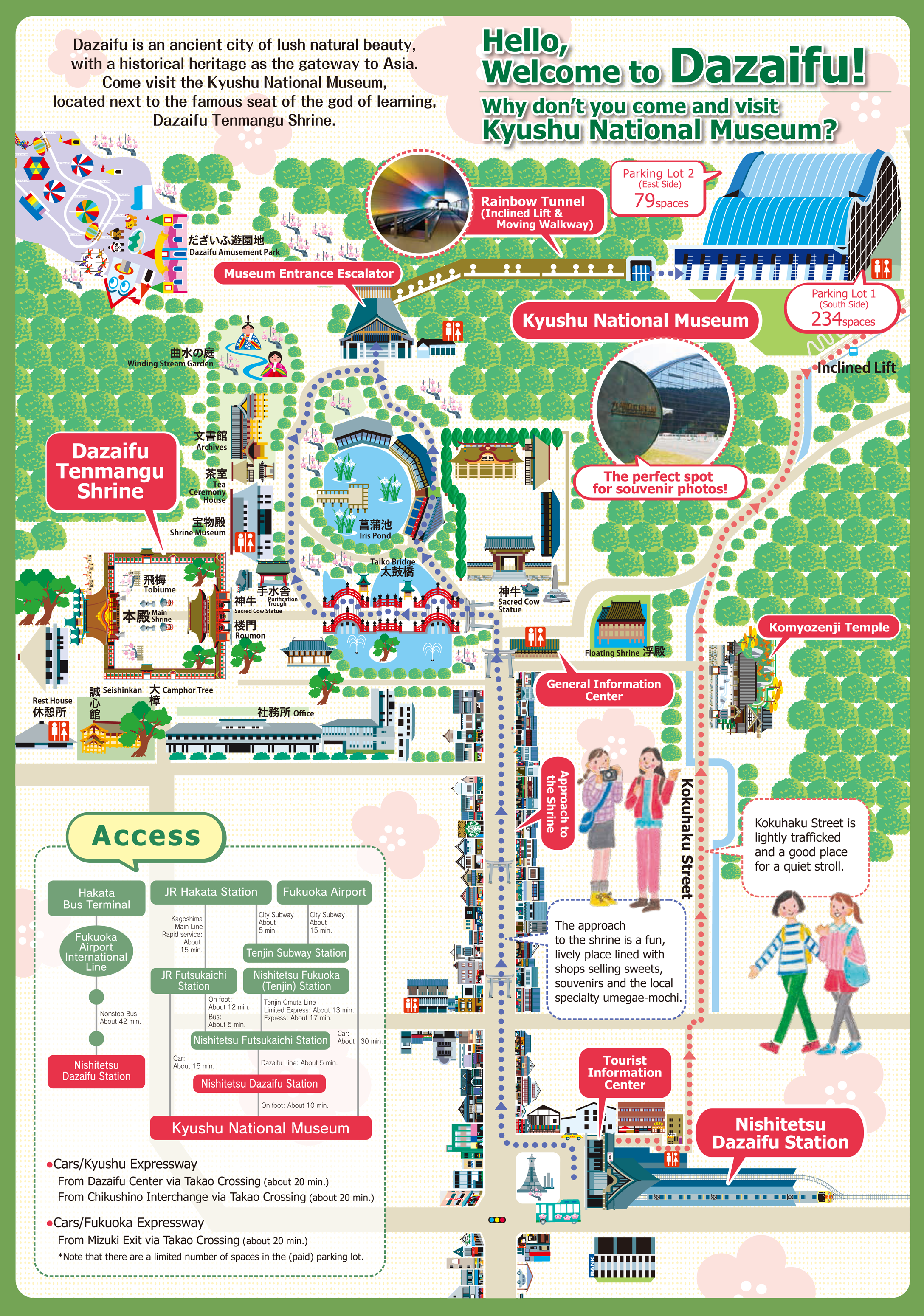 This year, it's the 10th anniversary for the Museum. When you see it the first time, You will notice that it`s a building which combines beauty and strength.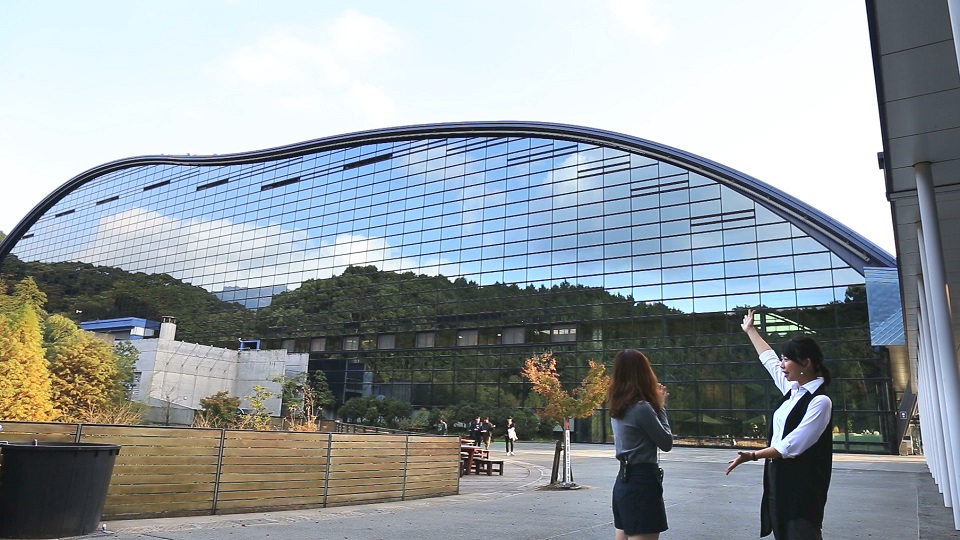 The beautiful curve and the reflection of the nature in the glass facade are worth seeing.The number of visitors is the second highest from all National Museums in Japan. The other National Museums are in Tokyo, Nara and Kyoto. Four times a year, the special exhibition changes so there is always something new to explore for visitors.
Convenient Multilingual Service
Inside the museum, everything is written in Japanese, English, Chinese and Korean.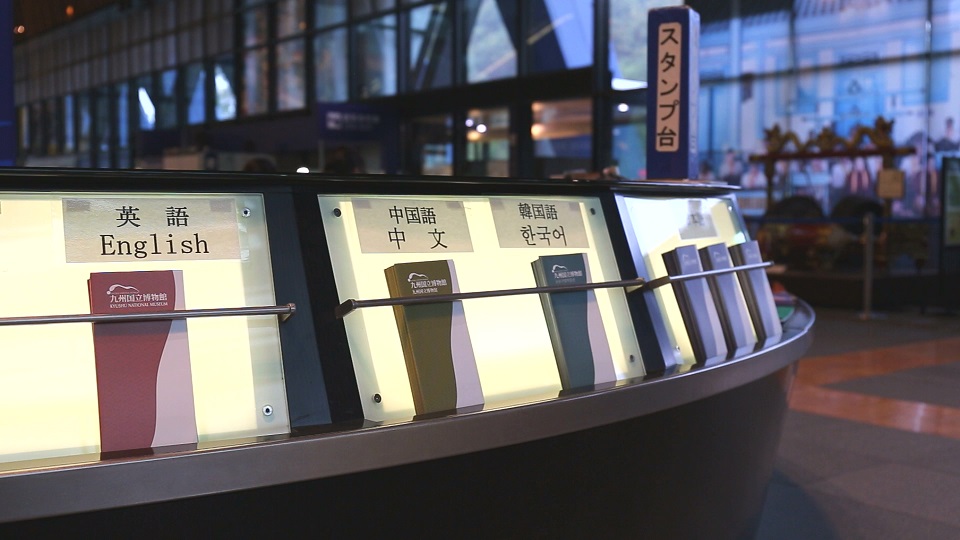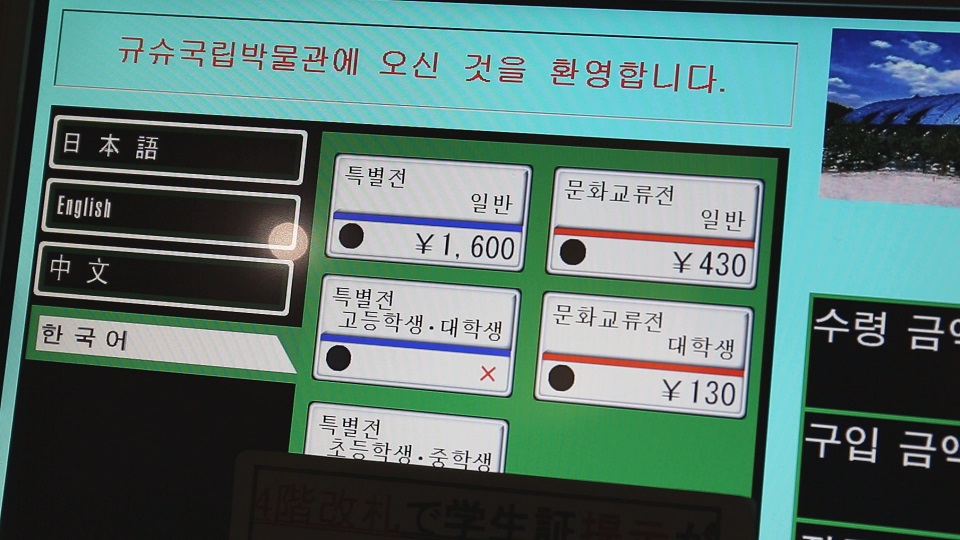 There are two types of exhibitions. A permanent exhibition with the theme "cultural exchange" and a special exhibition. By purchasing a special exhibition ticket the ticket for the permanent exhibition is included, so it is possible to visit both.
At the fourth floor you can find the permanent exhibition show rooms. There you can experience the history of Asia and Japan.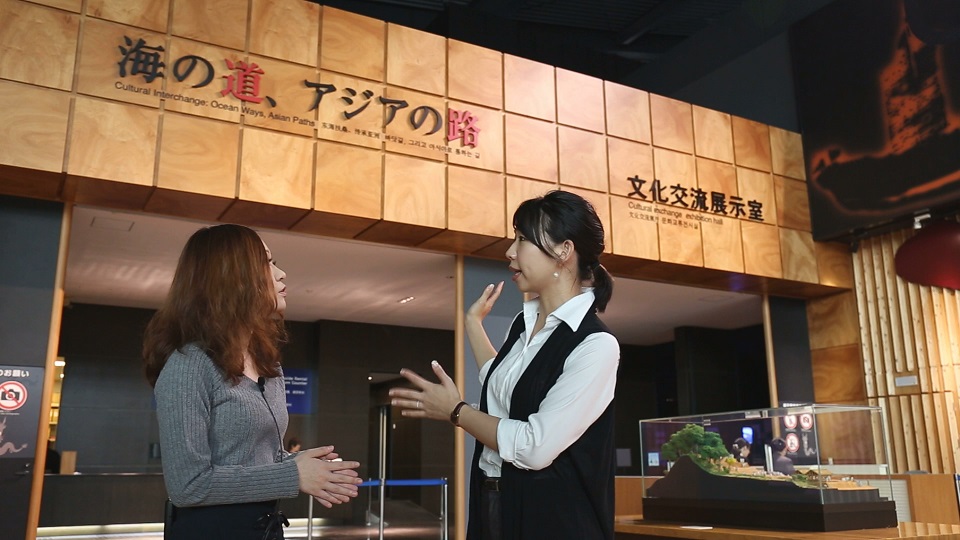 A very convenient feature here is the voice guide, available in Japanese, English Chinese and Korean. With the voice guide you just have to press the number of the exhibition good you are standing in front of and you will get a detailed description about it in your language.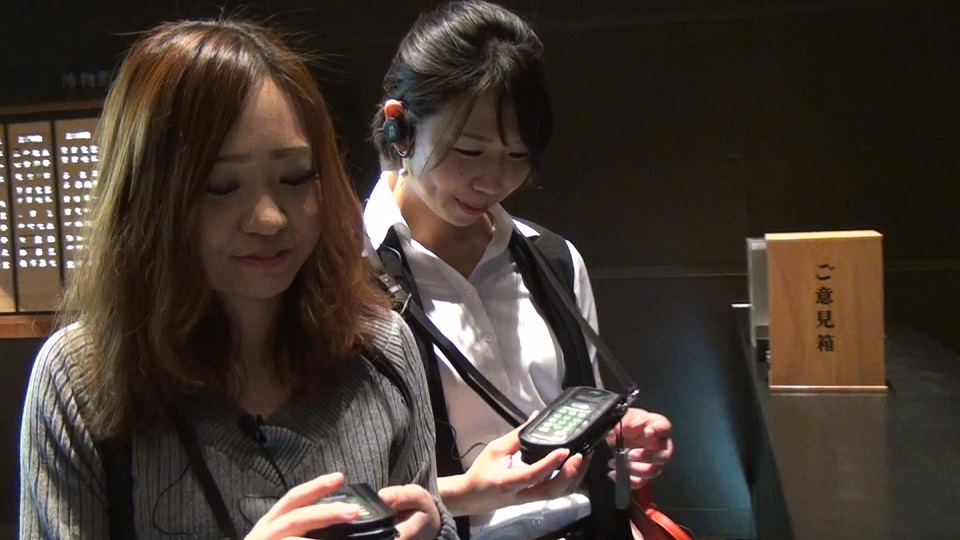 Chien Chien lent a Chinese voice guide and was surprised how convenient it is. Plus, something very special at the Kyushu National Museum is, that you can touch and smell at exhibition goods. You can experience history by yourself. Chien Chien also did and was amazed about this special feature.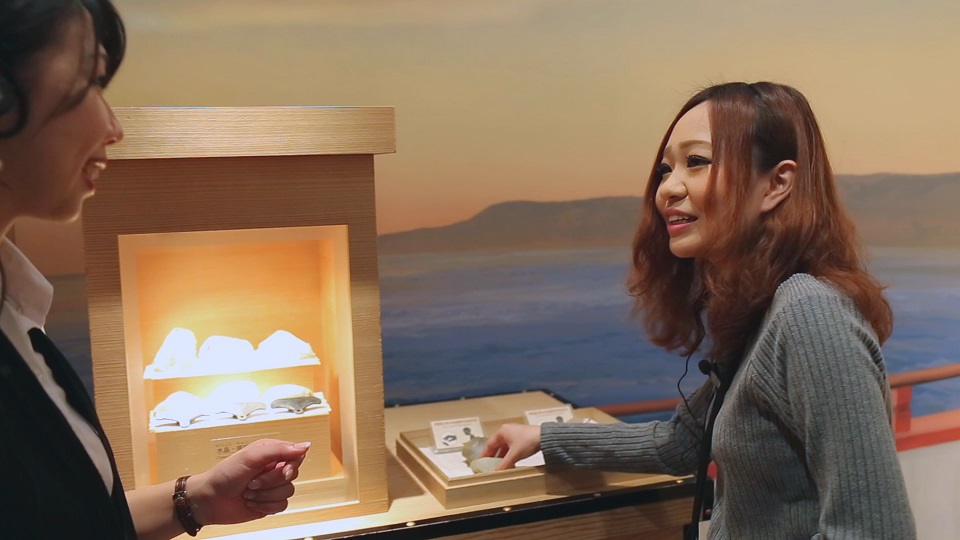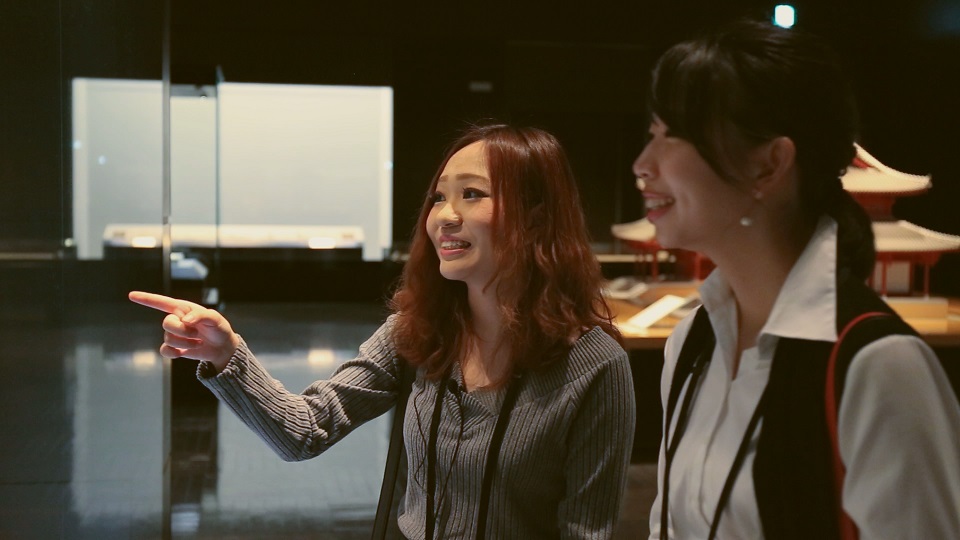 At the third floor the special exhibition is held. The theme changes 4 times a year and more than 100 000 visitors are coming to watch it every time.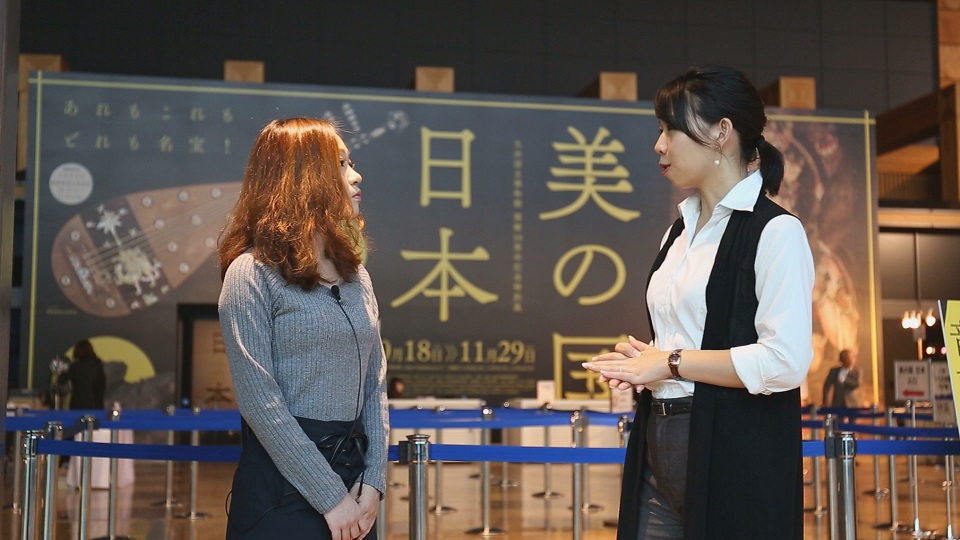 Entertainment Museum
Exhibitions are not all you can enjoy and have fun with at the Kyushu National Museum. At the fourth floor you is an ultra-high definition screen, the so called "super high vision theater".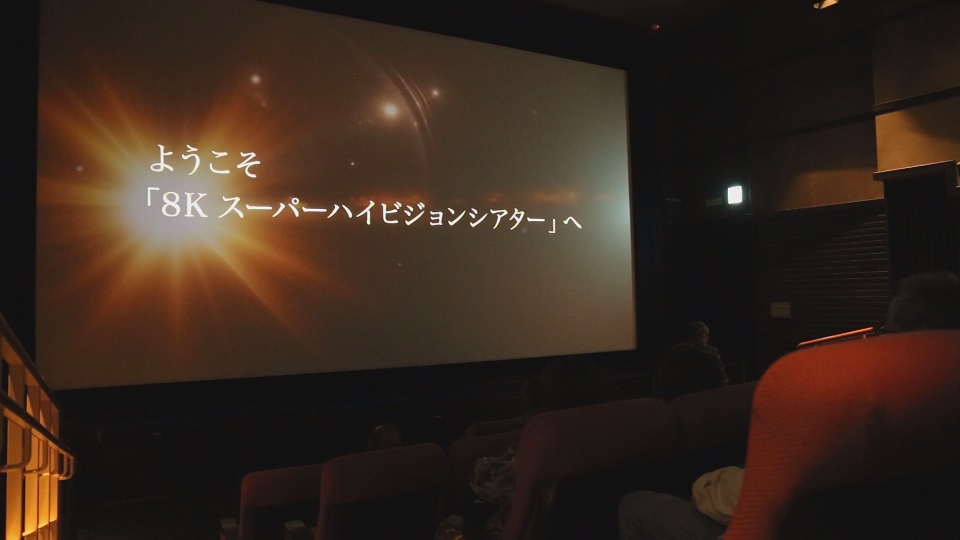 For gourmets, restaurants and cafes are located at the first floor and those who want to buy souvenirs will be satisfied at the museum shop.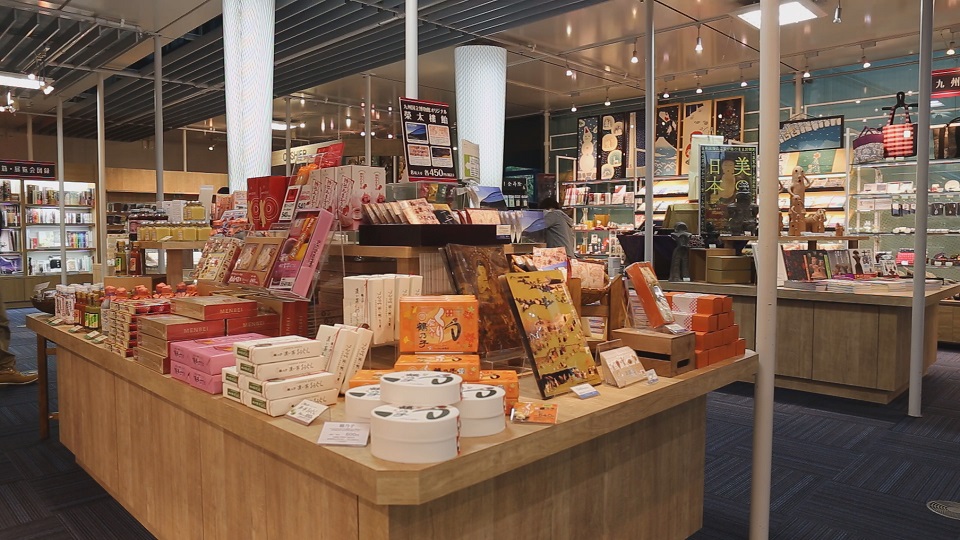 In addition, you can find an antenna shop of the museum when approaching to Dazaifu Tenmangu shrine. Over there, exhibition descriptions and souvenirs are available too.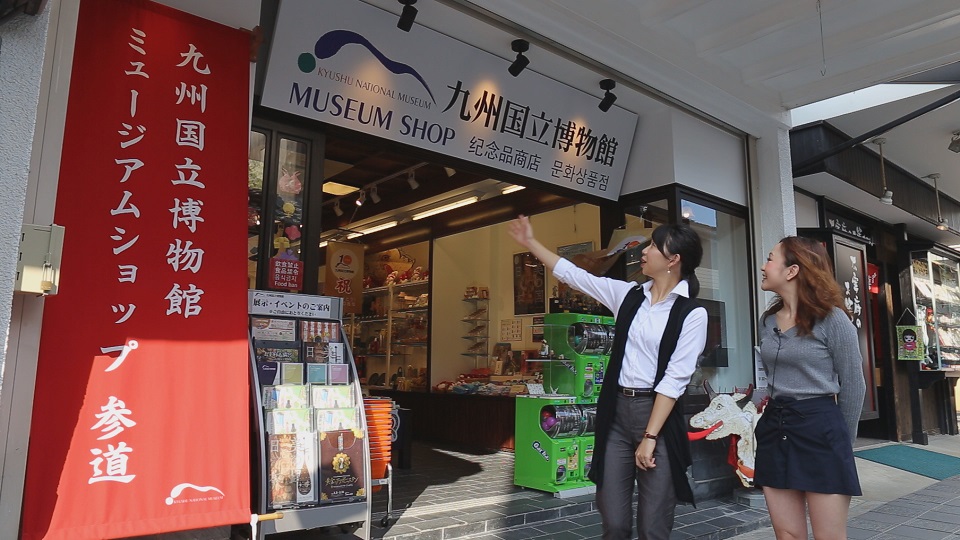 If you want to experience ancient history and next generation entertainment too, our recommendation is Kyushu National Museum.
Kyushu National Museum
※As of December 14th 2015
Homepage
http://www.kyuhaku.jp
Address
818-0118
4-7-2, Ishizaka, Dazaifu-shi, Fukuoka
Contact details
TEL:050-5542-8600
(Information hotline from 08:00 am – 10:00 pm without holidays)
Opening hours
09:30 am – 5:00 pm (entry till 4:30 pm)
Holidays
Monday (can change in case Monday is a national holiday)